Japan
Tokyo, 28 April 2017
A man for quantity…
The AKTA community center is on the second floor on a small street in the Shinjuku-ju district, said to be "the largest gay district in Asia".
Up there we're meeting Hiroshi Hasegawa, a long-term HIV survivor. Photographer Marjolein immediately recognizes the indented cheeks of a long-term HIV survivor, because she has them herself. As we later discover, they have the same drug history: AZT, ddI and D4T (and nobody knows yet which of the three is responsible for the indented cheeks).
Hiroshi, by the way, shows signs of—to put it mildly—a difficult medical history. He's in a wheelchair, and we see between his right trouser leg and shoe not a leg, but a length of steel.
Hiroshi is an unusual person, that's clear right away. When he takes the elevator down in his wheelchair to be photographed outside, his sunny personality uplifts the whole street. Everyone is entertained: Zjansi* (the woman who runs the community center, known among other things for her reverse striptease: she begins naked and puts on more and more clothes), Kazuo Myata (a man who has been writing about HIV for more than 20 years, and became friends with Hiroshi and his entourage), and of course the man who brought us here: Aikichi Iwamoto, MD, DM Sci. Those abbreviations mean that he ranks quite high in the medical world, especially in HIV. That's why we interviewed him earlier that afternoon about the state of things in Japan, because he knows everything about it. But he is also a "common" doctor for many HIV patients, including Hiroshi.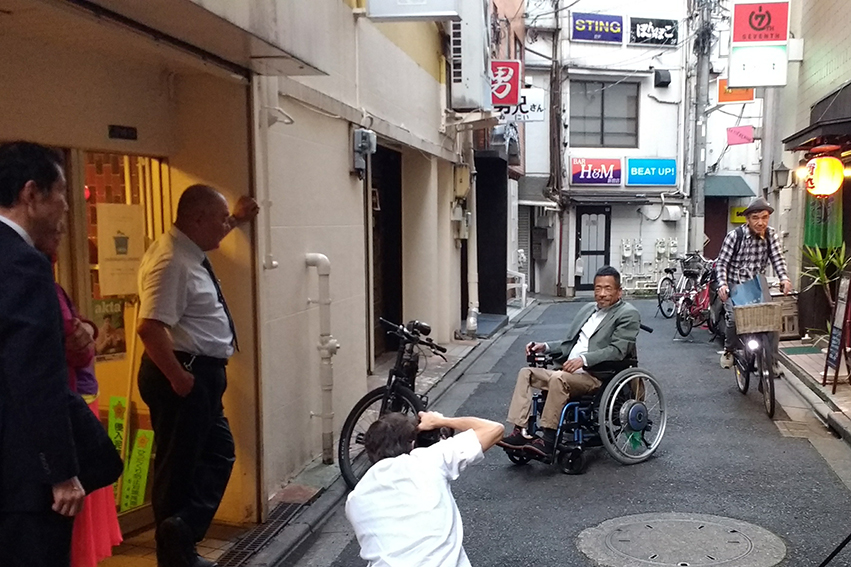 Marjolein taking pictures of Hiroshi Hasegawa
We go upstairs to interview Hiroshi. He wasn't one the first HIV patients in Japan: those were the hemophiliacs who received infected blood from abroad. But he was one of the first homosexual men who came out about his HIV, and the Japanese gay scene knew that because Hiroshi was the chief editor of several gay magazines. Like all Japanese magazines, they're quite graphic, and so Hiroshi has fought to see that HIV—and thus condom use—also became common in their pages.
But fine, we'll read all that in the full interviews with Hiroshi and Aikichi Iwamoto on www.atlas2018.org.
After all that talk, you have to drink and eat. So these Japanese friends take us to… the Chinese restaurant. Which is something special, especially when Hiroshi orders. After leafing through the menu and consulting the woman who runs the place, the whole table is loaded. Hiroshi is a man for quantity. For a bit over two hours the table is full of bowls and plates of foods we've never heard of, although it's a little strange to say such a thing, considering that we eat pigs' ears, for instance.
In between orders, Hiroshi talks about his medical history, and there he's also a man for quantity. First came HIV. Then he lost a leg to diabetes. Then he had a heart attack. "And then came brain disease… I would not want to live anymore." But friends and friends' children helped him overcome it all. And the infectious smile returns to his face.
It's time to go home. Does he live with someone? asks Marjolein. "No I prefer polygamy." We could have known.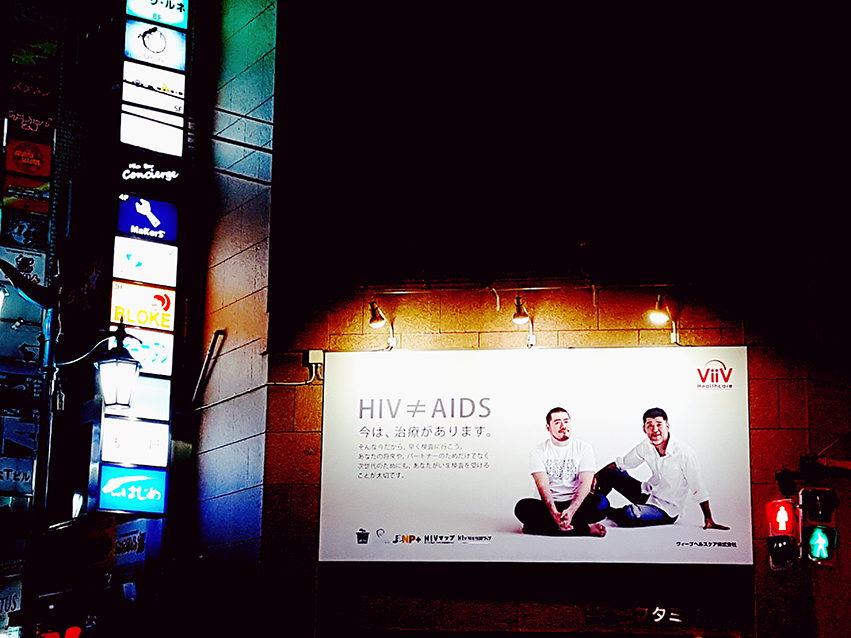 Streetview Tokyo