BERLIN
24-10-2015
one hour flight from Amsterdam
'Will I have to photograph a group of men fooling around? I don't know if I'm the right type of photographer for that!'
The fact that we can take photos of Thomas, the leather boy, who we are following for a series of photos, in his favourite bar and its play room, causes Marjolein to panic slightly.
'No of course not…. We've got an hour to take photos of him and a couple of his friends sitting at the bar before it opens.'
'One hour! Is that enough time?'
Marjolein is someone who can change the subject quickly.
'Should be.'
'And…?'
'That we see him in the place that's important for him and his story. HIV in the leather scene is a difficult subject. Even though it's relatively common.'
This is a completely different world for her.
'What's the role of HIV in this subculture, is it a big problem?'
'Tomorrow I'll ask him.'
Bizarre how two old hands like me and Marjolein who have for years lived with our eyes wide open in the world of HIV, know so little about it. And no, we're not in a faraway region in some Asiatic country; we're in Berlin, a one hour flight away from Amsterdam.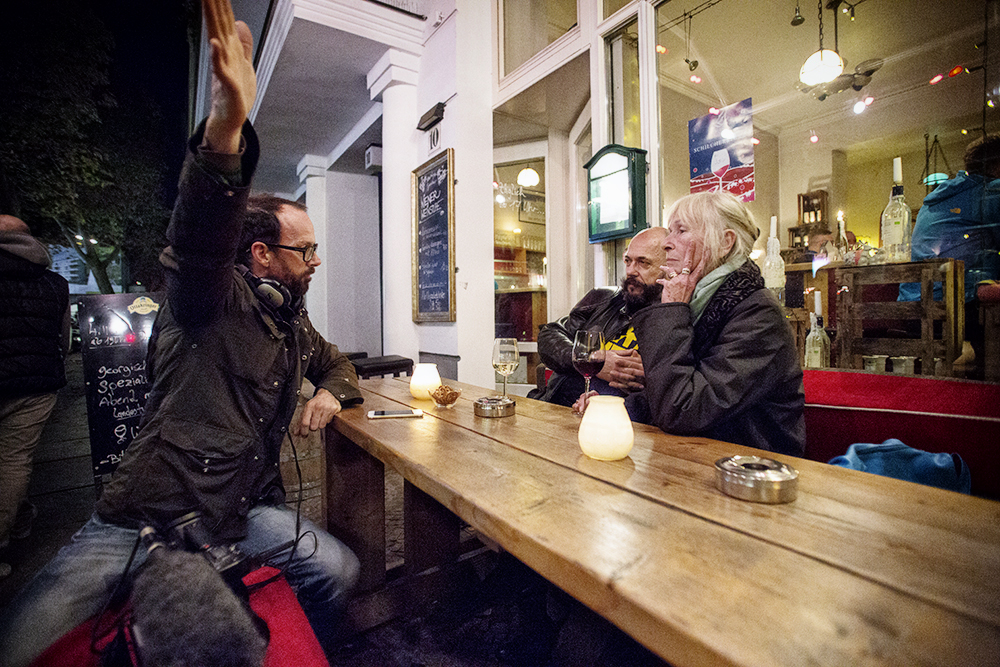 We follow three people intensively for a few days. Willem and Bert make a short documentary about Renate, a 67 year old, who's lived with HIV for a long time and has weathered the heaviest of storms. Marjolein follows Thomas, our leather boy, and the last day we do an interview with Carsten, the only Member of Parliament in Berlin who openly talks about his HIV status.
All three extraordinary people with their own, incomparable stories.
What they share is their candidness as well as being prepared to make three days available for us. We've experienced this commitment in Germany before; and as far as I'm concerned you can forget any preconceptions about our neighbours. 'Lebe Deutschland!
Just before we are about to leave to go the leather club's cellar, the group meets in a bar. One of the conditions of Thomas and Renate taking part in the project was that there would be time for us to drink a glass of wine together.
A pleasant interlude. The wine works. Crazy anecdotes, snippets of wild nights and photos of family and friends are all shared with us without any hesitation.
Willem quickly rolls his camera, Marjolein takes a couple more photos but then it's really time for the last job of the evening; the tough guys are waiting.