Cambodia
With a population of 15,760,000, Cambodia has an estimated 67,000 adults living with HIV, or about 0.43%. New infections have been falling steadily since 1995, now reaching a steady low state of fewer than 1000 new cases per year, while the coverage of Antiretroviral therapy (ART) has been rising to 80% of affected adults.
Read more...

Men who have sex with men (MSM) constitute less than half Cambodia's HIV-positive persons, though predictably, those have a higher rate of infection than the general population. Only about 40% of young people 15-24 know about HIV prevention; and fewer young women than young men.
Of Cambodia and its neighboring countries Thailand, Laos, and Vietnam, Cambodia's infection rate falls about in the middle. Thailand, with a much larger population, has a higher overall rate but has reduced its mother-to-child infection rate to zero; and Vietnam, largest of these countries with a population 6 times that of Cambodia, has a lower overall rate.
(Figures from UNAIDS, 2016)
TRANSGENDERS
Cambodia's National Centre for HIV/AIDS has estimated there are just over 3,000 trans women living with HIV in the country. But 29 percent of LGBT+ people would not reveal their status to anyone, making it hard to get the real figures.
Trans women often have to deal with an accumulation of problems. Most of them are not just transgender, but also sex worker, drug user and HIV-positive.
This list doesn't mention the violence and the stigmatization most women have to live with. A report by the Cambodia Centre for Human Rights has revealed that just over a quarter of trans women have been raped in public spaces, nearly a third have been sexually assaulted and 43 percent have experienced physical violence.
The Trans women we met showed a courageous lust for life, a big heart for their beloved ones and a funny sense of humour. We are truly grateful for their contribution for Atlas2018.
(Source: Cambodian Center for Human Rights)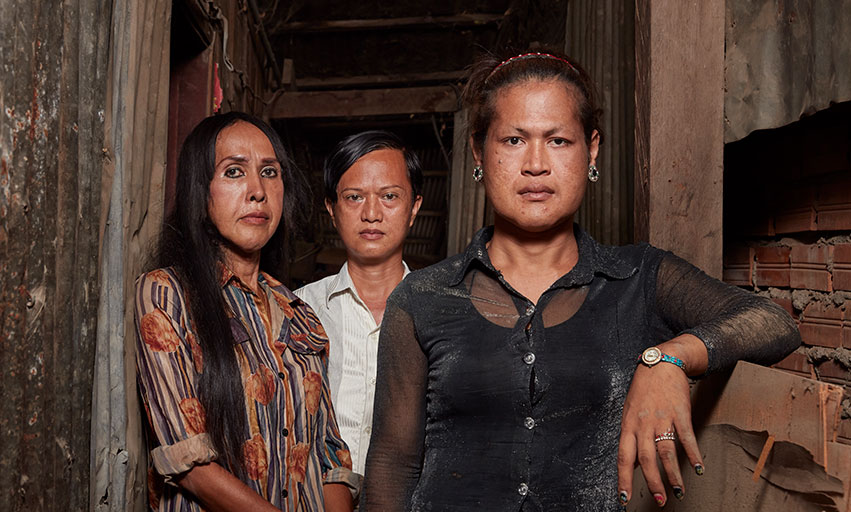 Larksmy – Pov-Rechna – Tep-Vana
LARKSMY
March 2017, Phnom Penh, Cambodia
Tep Vana
March 2017, Phnom Penh, Cambodia
Pov-Rechna
March 2017, Phnom Penh, Cambodia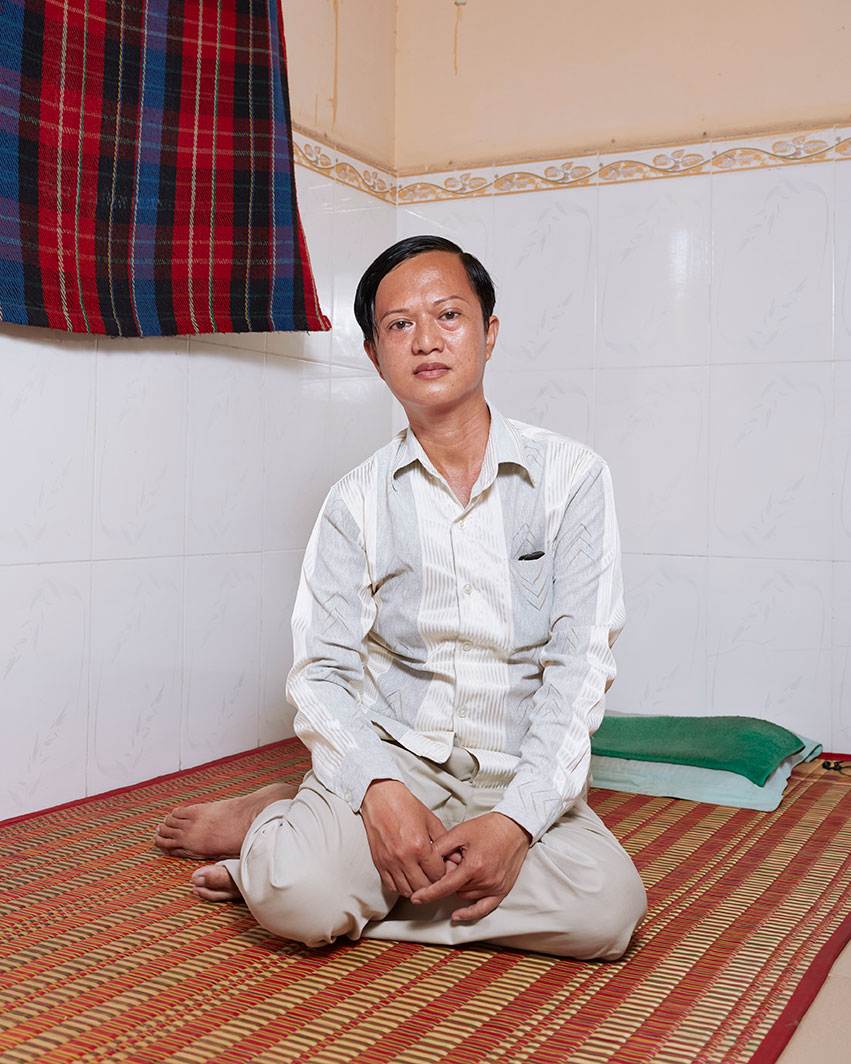 "I was 18 when I realized I wanted to be a girl. That was a difficult time because my family didn't accept it. I just felt no longer welcome at home. That's why I went to live in the big city. I could earn my living there as a sex worker. No, I didn't have Western customers. It was mainly Chinese and Cambodian men."
Meanwhile we're 30 years further. Pov Rechna is a shy, somewhat withdrawn woman. The tiny, almost empty room where we meet her feels more like a refuge than a "home". She has two girlfriends with whom she is close. They're also transgender. Other than them, she doesn't trust anyone. "I don't have much contact with the neighbors and I never see my family."
Some time in her first years as a sex worker she was infected with HIV. She has no idea when, where, or by whom it happened. Nor does it matter. One day she had complaints, a little while later, the complaints were so serious that she went to a doctor. He proposed to do an HIV test. That was in 2000.
She immediately tested positive.
"The pills weren't available the first years. I only started taking HIV medicine in 2005. Now it's better. When I come to see my doctor, they always have pills for me. I see my doctor once a month. In past years I had a French doctor. Unfortunately he's returning to France soon. Then I'll get a Cambodian doctor. "
When all questions are asked and answered, it's time for lunch. It feels like a party. With each bite she gains self-confidence. In half an hour she transforms from a fragile timid girl, into a self-aware, somewhat dramatic, chic woman of the world. She talks at top speed and likes to laugh at her own jokes!
She shares the happy moments in her life. "In 2009 it was over. I was finally a girl. That gave me peace. It still does. I'm now the woman I want to be. I have SOUL!"
She doesn't talk about the future. Today she prefers talking about more innocent things. "I went to the hairdresser yesterday! Do you like this short hair? Or should I let it grow out again?"
About whether she can ever quit her job as a cleaning lady to start her own business, she doesn't want to say too much either. She lives in the present. That's what life's about. Today is important. There's nothing to be said about tomorrow.