Blog from Erwin Kokkelkoren in reaction to the article in The New York Times: 'People Think It's Over' Spared Death, Aging People With H.I.V. Struggle to Live.
Amsterdam June 2, 2016
Tomorrow is a long way away, next week an uncertain adventure.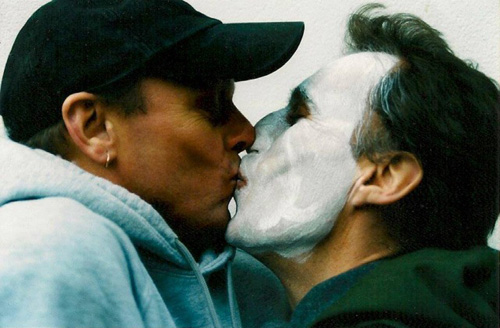 You cannot generalize a life with HIV or AIDS; it remains an individual story. One has serious complaints, which the other has never suffered. Plus, the perception of aches and pains varies enormously. One can handle the physical and psychological discomforts more easily than the other; which is not necessarily evidence of a strong character. If you've been infected with HIV for a long time, from the days before there were pills, and so now you are probably around 60, then there is often a new set of inconveniences.
The Husband and I recognize this and, when times are difficult, hide it all away as deeply as possible in the closet. What do you do with all that junk!?
Sometimes that works really well.
After a difficult 2015, we are now experiencing a euphoric 2016. We are travelling all over the world, working with the energy of someone in their twenties and enjoying every minute of it. 2016 has so far been a real triumph for getting older with HIV.
Our followers on social media know that we are not afraid to shout loudly about our happiness from the rooftops. We are planning to let this good time run as long as possible. A good taste always leaves you wanting more!
Our work is an incredible boost in this process.
Yet, every day we are aware of the game that is being played. Tomorrow is a long way away, next week an uncertain adventure, and where we will be health wise in 2017, we do not think about.
We'll see.
Denial and hiding things away, when used properly, are very valuable traits in dealing with HIV.
But 2016 is a year we are happy with whatever comes our way. I find 'thankful' a horrible word, but it just squeezed into my head. Perhaps that's why during a sleepless night like this, where you unwittingly read an article in the New York Times, the confrontation about how it can also go is downright painful…
For Atlas we want to tell the whole story about HIV; in all its colours. Of the tragedies and, fortunately, the triumphs in Africa, the flush of victory by many in Europe, and the relatively unknown and unloved aspects as described in this newspaper article.
For Atlas we still have to visit half of the world. South-East Asia, the former Soviet states, the Arab world… and we still have to go to America to record the stories of this growing group of diehards. If we want everyone to have his or her say, we just should do that; it's as easy as that. This is not only in Atlas2018's benefit, but also for ourselves.
Working is for us the best medicine against sleepless nights and the junk we have hidden deep in the back of the closet.