South Africa
South Africa's 55,910,000 population comprises the world's biggest HIV epidemic: an unusually high 18.9% adult people living with HIV (PLHIV)—varying by region—and 270,000 new infections in 2016. Nationwide 320,000 children are infected.
Read more...

Men who have sex with men (MSM), transgender women, sex workers and people who inject drugs (PWID) experience even higher rates: sex workers nationally 57.7%, in Johannesburg an astonishing 71.8%., yet not many are getting Antiretroviral therapy (ART). The rate of infection among young women is 4 times greater than among same-age men.
High levels of stigma, homophobia and ignorance prevent many people living with HIV (PLHIV) from getting the health care they need.
Yet there is ground for hope. South Africa has the largest Antiretroviral therapy (ART) program in the world, a huge investment. It was the first country in sub-Saharan Africa to approve PrEP. It now has a progressive national HIV policy for sex workers, although on the ground, the program meets resistance from local authorities.
(Figures from AVERT, 2016)
Pomona Truck stop
Johannesburg, South Africa
Pomona Truck Stop sits alongside a highway a few kilometers outside Johannesburg. It is an enclosed, secure area with many amenities, where dozens of truckers from all over Africa pass their time waiting for their next load. Here they have a café, a shop, a laundry and a well-equipped garage for truck repairs.
And hidden behind the trucks on the edges of the field is a long row of tents, homes to countless female sex workers who help relieve the men when they're away from their girlfriends or wives at home.
Most of the women we met here come from Zimbabwe. They flee to wealthy South Africa every year by thousands to escape the desperate poverty in their homeland, hoping for an income to support their children and help their families survive back home. Sex with men is their main source of income, but women also deal in used jerricans and second-hand clothes.
The roles are clear in Pomona: both men and women know their place. That creates peace. As long as the men don't drink too much, there are few problems between men and women.
What's most important in Pomona, but invisible… what's not talked about out loud, but only whispered about… is that 80% of truckers and more than 60% of women carry the HIV virus.
These are absurdly high percentages encountered almost nowhere else in the world.
Even so, it's getting better. "A few years ago practically all the drivers were HIV-infected. Now we see young drivers without HIV," says nurse Rosina.
She's in charge of the clinic container standing clearly visible in a central location on the property. Here, regardless of who they are and where they come from, truckers and women can get free testing and treatment. Unfortunately, HIV is still a big taboo in Africa. This raises the threshold of reluctance to visit the clinic.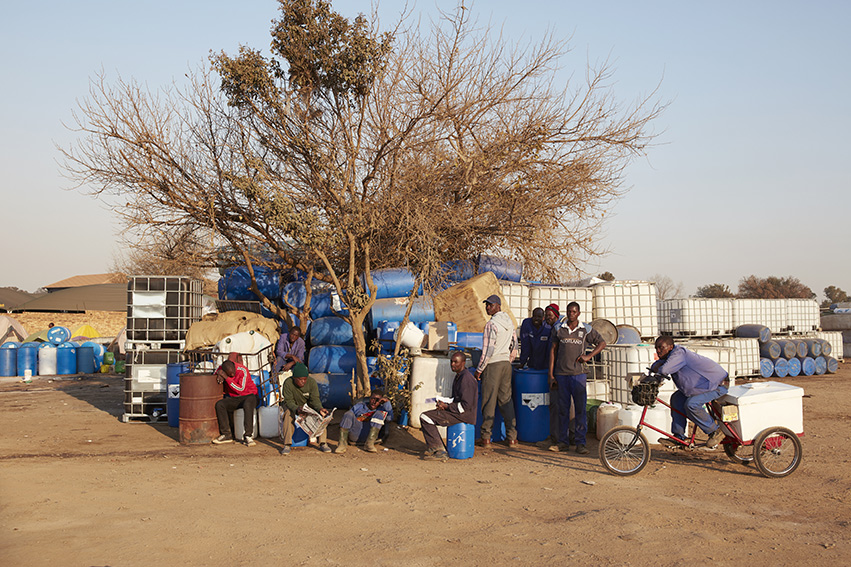 The truckers, especially, may respond badly to a positive HIV diagnosis. They're afraid of losing their jobs, and they're reluctant to confront their wives at home. "Women are stronger than men when they have to deal with HIV" agrees nurse Rosina. "They take their pills faithfully and they never give up. That's because women are also mothers."
HIV plays a growing role today in sex between truckers and women. More women than five years ago dare to insist on using condoms, they say, and more men are aware of the risks they run. But if a man doesn't feel like using a condom, he has the last word. A trucker named Petros, a nice guy, doesn't want to lie: "The man is the boss, and the women always give in because they can't afford to lose the money."


Florence and Brilliance

Truckdrivers at Pomona

North Star Alliance Clinic

Edwin Cameron

Role model