BERT OELE AND ERWIN KOKKELKOREN:
Les Enfants Terribles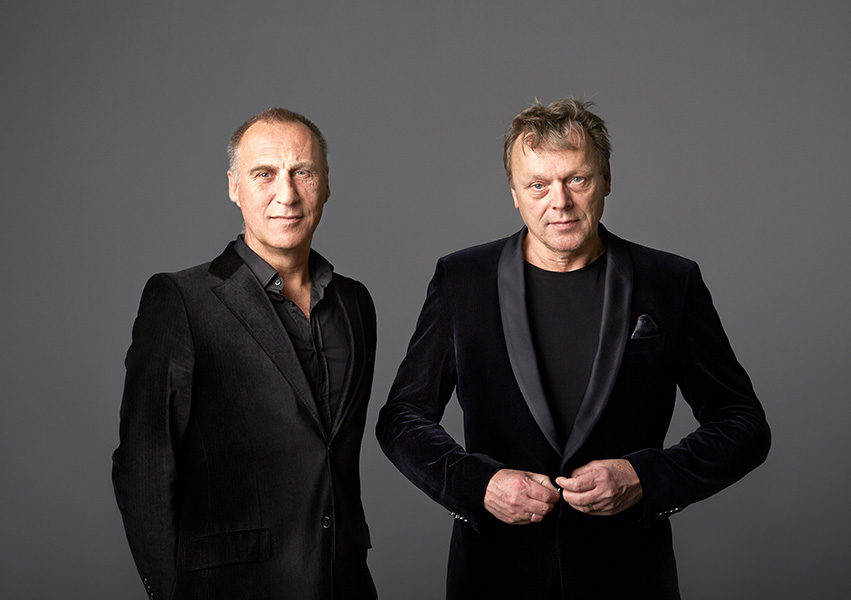 In 1988 Erwin Kokkelkoren (1960) and Bert Oele (1950) founded the LES ENFANTS TERRIBLES Foundation, to create a place for all their theatre work. The name characterises everything their work stands for: unruly, impudent and new.
In 1984 Oele was still working in psychiatry when Kokkelkoren began his career in the theatre with the Flemish theatre director Jan Fabre. ('De Macht der Theaterlijke Dwaasheden'). His first performances were the solo Mannendans (1986) and the successful Gedachtenval (1987) with the contemporary dance company Het Penta-theater (1985-1988).
'Ich Ewiges Kind' in 1988, a performance about the life and work of the painter Egon Schiele was Les Enfants Terrible' first production.
In the years that followed Kokkelkoren played in performances by Janine Brogt and Paul Gallis, het Handke Weiss Company and Barbara Duyfjes and Marty De Bruyn.
1991 turned out to be a defining year in every respect for Kokkelkoren en Oele. They had both contracted the HIV virus. This resulted in a number of changes in their lives. They decided to concentrate solely on their own productions for Les Enfants Terribles. Oele left psychiatry and became business director and producer and soon became director of their productions as well. Kokkelkorren became artistic director. He wrote and was responsible for the choreography and sometimes acted too.
When you are confronted in your daily life by existential questions about life and death, then obviously those questions always play a role in the work that you create. This was no different for Oele and Kokkelkoren. The form changed but the underlying theme of the 10 productions they created between 1994 and 2005 remained the same: what's the point of all this human mess? This could be seen in their traditional theatre (Hati-Hati 1996), the solo performances (Tales from a Traveller, 1995) and performances like (Body 2002)
High points were the tours to Edinburgh, where in 1997 Tales was nominated for the Fringe First Award and New York where three different productions were a great success in the famous Off-Broadway theatre La MaMa e.t.c.
In 2005 they changed course. Oele concentrated on global film archives, Kokkelkoren moved into television where he developed and wrote drama and comedy series for producers Johan Nijenhuis and Willem Zeilstra.
In 2010 they picked up their work with Les Enfants Terribles again. Both felt a strong urge to highlight that unwelcome but ever-present theme in their lives, their HIV infection, in a big project. The starting point was that the work should not only be important just for them but for a broader public as well.
This lead to De Tijd Daarna (2010-2014), a triptych in which Oele and Kokkelkoren gave a face and a voice to the first 30 years of the HIV and AIDS epidemic by focussing on 30 stories of those caught up in it. For every year from 1982, the year of the first AIDS diagnosis in The Netherlands up to 2011, a man or woman who had been infected was portrayed. It seemed the perfect starting point to portray and document the extremely fast developments surrounding AIDS and HIV.
De Tijd Daarna lead to a photo exposition (2011) by photographer Erik Smits, with texts by Kokkelkoren; a book (2012) of all Kokkelkoren's written portraits and Smits' photos; and a successful TV documentary that Kokkelkoren made with director Willem Aerts.
Oele, as creative producer, was the driving force behind this exceptional project. Its impact and success was huge. Numerous press publications, the often-repeated documentary on television and much international interest illustrated De Tijd Daarna's importance. Kokkelkoren and Oele believe that its success was largely because they focussed on the people and not the virus.
In 2014 the documentary was shown at AIDS 2014, the biennial global conference about AIDS and HIV in Melbourne. Lambert Grijns, the Dutch ambassador for HIV and AIDS, encouraged them to continue to make these impressive portraits and stories because the next conference was to be held in Amsterdam in 2018. According to Grijns, there was a great demand for personal stories told by those involved themselves. Kokkelkoren and Oele agreed.
This was the initiative for Atlas2018.
For four years the Les Enfants Terribles' creative team travelled the world filming, interviewing and photographing PLWHIV. Men, women, young and old, from all levels of society were visited in 12 countries on 5 continents. This yielded hundreds of films, thousands of photos and many written texts. All this material which included presentations, screenings, documentaries and exhibitions was shared with the world via the website www.atlas2018.org. The goal of portraying the community so broadly and to allow it to speak for itself is simple; it is the most effective weapon in fighting stigma, it combats prejudice, encourages self-awareness and the emancipation of PLWHIV as well as being an indispensable weapon in defeating HIV and AIDS.
In 2018 the new TV documentary "I will speak, I will speak!" and the exhibition which resulted from it was the climax of AIDS 2018. A community of 37 million people brought together in one enormous exhibition in the Beurs van Berlage in Amsterdam … a story that had only been seen and heard of by 2 million people in The Netherlands. Aerts, Smits, Silvestri, Annegarn, Oosterhout and of course Kokkelkoren and Oele had given the world and the HIV community a beautiful and valuable gift that has importance for future generations.
But Kokkelkoren and Oele decided that they hadn't finished yet. There are still many stories that have not been told; and there are still too many stories that have not been heard. Their new aim is that when there is a more complete and more impressive version of "I will speak, I will speak!" then it will be presented in San Francisco – Oakland at the next global AIDS conference in 2020.
And then it is March 2020. COVID-19 rules every corner of the world. Events are canceled. Also in San Francisco. There is a bit of shock, but then a new world bursts open. ATLAS VIRTUAL