Alabama, The United States of America
Alabama, a largely rural state, is in poor shape — literally. Its population of about 4,900,000, 68.4% white and 26.5% black, has a poverty rate of 17% (sixth highest in the US, and far above the national rate).
With poverty and racism it has huge health problems. All important STDs are highest among blacks and Hispanics.  
Read more...

14,653 persons were known to have HIV in 2018, 657 newly diagnosed — 13.4 per 100,000, but 36.7 per 100,000 for blacks. These are undercounts. Alabama provided medication for only 1,156 of them. Within the black community 51% of newly Hiv infections occur among men who have sex with men (MSM). Stigma against LGBTQ persons generally is high. Many of these individuals do not identify themselves as gay or bisexual.Young black males 15 to 29 years old have been identified as a high-risk group. Black females are approximately 9 times more likely to become infected with HIV than white females. The state began a social media campaign to raise HIV awareness and lower stigma which appears to have died in 2017. Public education in Alabama is poor.
(Source alabamapublichealth.gov/hiv)
SELMA
'How long, not long'
Martin Luther King
Alabama, USA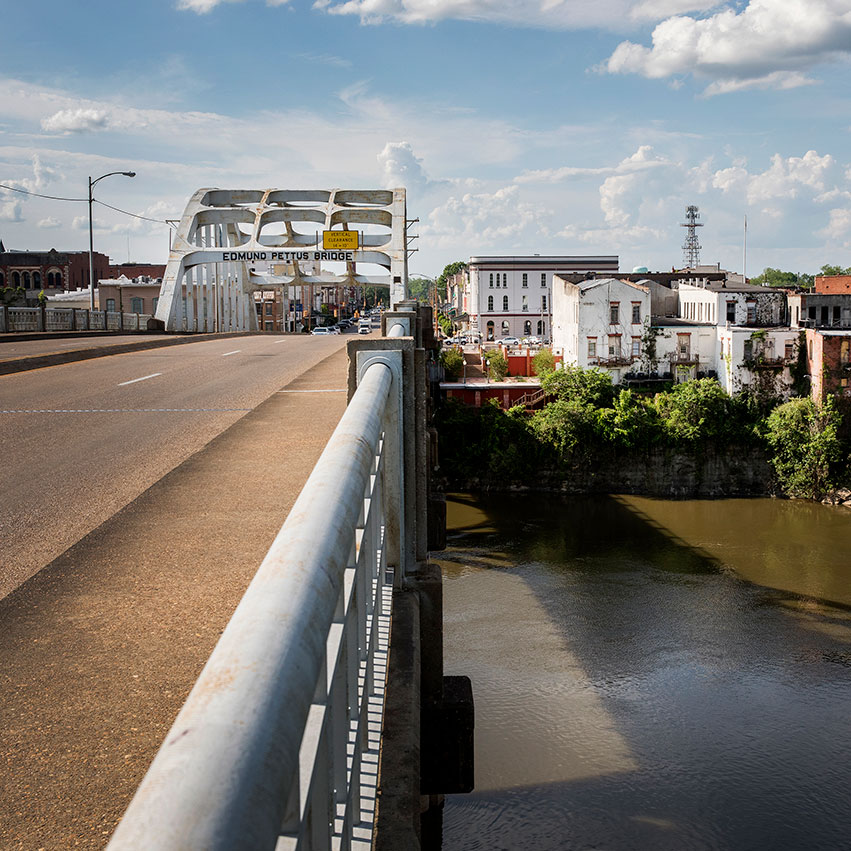 Edmund Pettis Bridge
We use our day off to travel to Selma, the city where an important chapter of recent American history was written. It is also the city that like no other symbolizes the still difficult relationship between the white and black community.
In 1965 the black community in Selma revolted against the repulsive rules regarding the right to vote. All the conditions that the black population had to meet had only one purpose; to exclude them from their right to vote.
I think America is a great country for many reasons. I've fallen deeply in love with it. But I don't understand it. With every visit I get lost a little bit more, and after every glorious day more questions keep me awake at night. That's frustrating, but it only increases the need to go there as often as possible. I seize every opportunity with both hands to get to know it better. The history, past and present, the 25 different Americas that seems to exist… but what confuses me most is that such nice people can, at times, behave so totally wrongly. Maybe the next time I visit, I'll understand, I think …
1965 is not so long ago. I had already been born. The black population's struggle for the right to vote is less than a lifetime ago. That's nothing. I could have followed the events in the newspapers and on television …
The black community's fight has a long history. There have been general voting rights in the US since 1870. For the black population too. But the leaders in the south ensured, through poll taxes and literacy tests, that on average only 2% of the black population could actually vote. Discontent was huge. When activist and deacon Jimmy Lee Jackson was killed during a peaceful protest march against this injustice, the tide turned. It had taken too long! Enough was enough.
On 7 March 1965 a long protest march on foot started from Selma to Montgomery (54 miles – 87 km). The peaceful protestors couldn't believe it when they were attacked by the police with tear gas and beaten with baseball bats. The demonstrators didn't get any further than the bridge which today still bears the name of the infamous police officer, Edmund Pettus, who violently broke up the peaceful demonstration.
In the days after the first attempt the protest grew. Martin Luther King Jr. was asked to come and a second march was planned. On 9 March however, the demonstrators were met again by police on the other side of the bridge. Martin Luther King led the demonstrators back, obeying a Federal injunction, and with his supporters sought refuge in the Brown Chapel A.M.E. Church.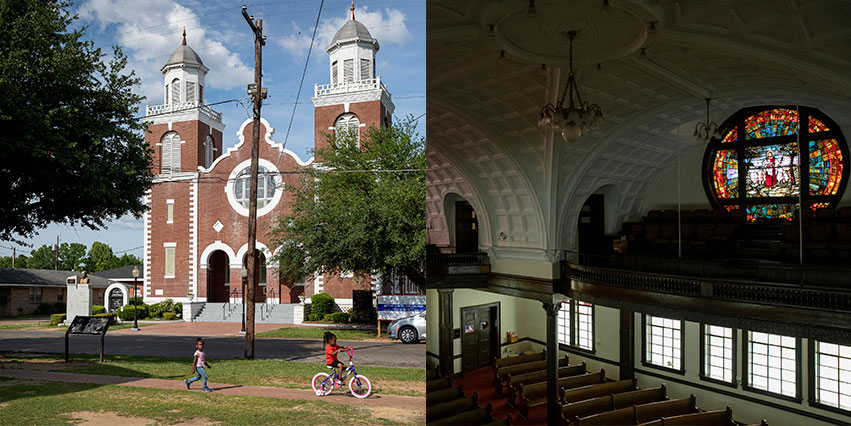 BROWN CHAPEL A.M.E CHURCH Here the participants of the march to Montgomery gathered and here their leaders, such as Martin Luther King Jr., spoke to the people.
With the support of President Johnson, who offered protection for a third protest march, thousands marched to the bridge again on 21 March 1965, en route to Montgomery. The crowd walked ten miles a day and reached their destination on 24 March – the State Capitol of Alabama in the heart of Montgomery.
Martin Luther King addressed the crowd there; "How long will justice be crucified … How long? Not long, because no lie can live forever."
In the beautiful historical museum at the foot of the bridge, where admission is free, we are the only visitors. Through the windows of the museum I see the bridge, which after 54 years still bears the name of the racist police officer Edmund Pettus. The Brown Chapel A.M.E. Church is still there too, in the middle of a lost neighbourhood where the weapons and drugs are not hidden away out of the view of the few visitors.
Selma Interpretive Centre (museum). One of the questions the black community had to answer correctly in order to exercise their voting rights was to guess the number of chewing gum balls in the jar.
Selma is a deserted town, partly built from cardboard façades to recreate the past for the movie that Oprah Winfrey made there a couple of years ago. There's hardly anyone on the street. We see no school buses full of pupils or students, no tourists, no white Americans, no black Americans…. It feels like Selma is an unwanted part of American history.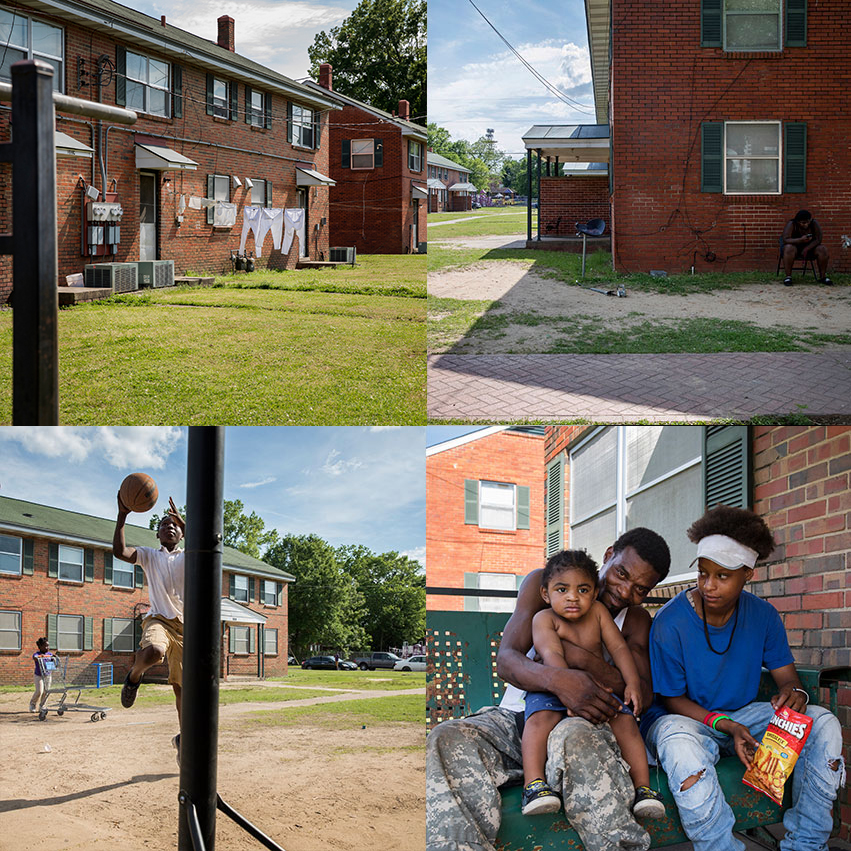 Daily life in 2019 in the projects that are located next to and opposite the BROWN CHAPEL A.M. E. CHURCH
Back in Montgomery we visited the State Capitol. There was an action day for better HIV and AIDS care. We are a bit late and here and there meet small groups of HIV activists in the beautiful but somewhat pompous building. Assertive, mostly black men and women who do not remain silent but speak up. Their struggle against this almost all-powerful government is reminiscent of the heroes of 1965 …
The women we speak to are happy because they have been heard and seen. The growing HIV epidemic in Alabama must be stopped, and the stigma about HIV must be eradicated. But to the question whether they think that much will change for the better soon, they answer by staying silent….
"How long?", Martin Luther King wondered … "Not long, because no lie can live forever," he replied.
Once back home in Amsterdam, I know that also after this journey my incomprehension about this great country has only increased.
But I'd fly back tomorrow.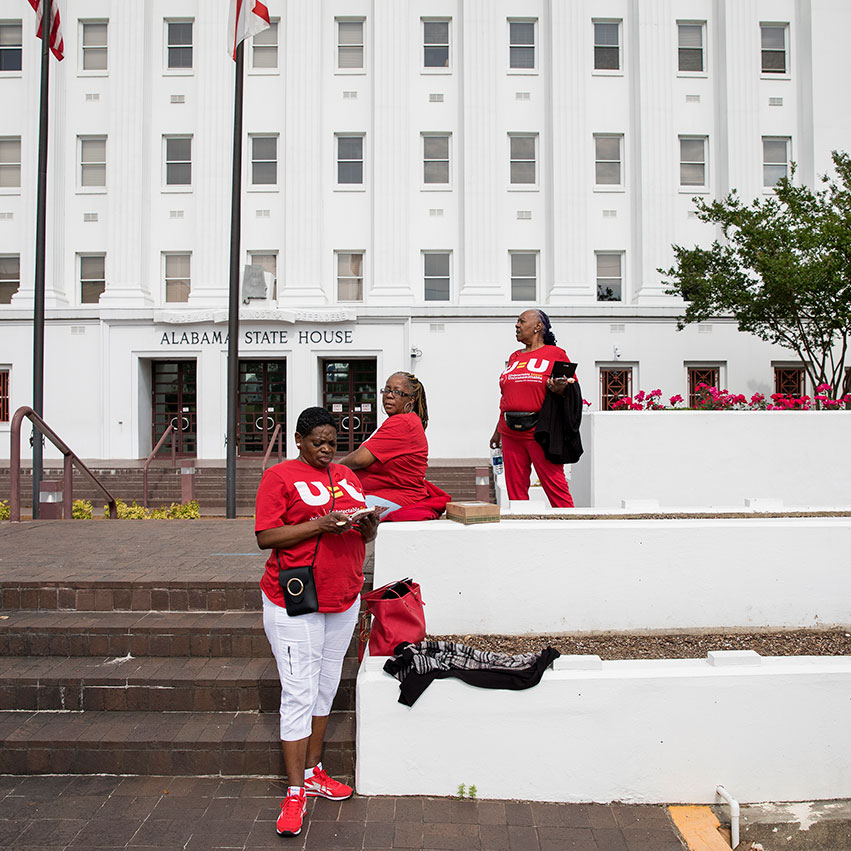 Alabama State House. Participants at the annual action day for better HIV and AIDS care in front of the State House, from which Alabama is governed
Photo's by Vincent van den Hoogen