The United States of America
The USA had a population of 323,300,000 in 2016 amid 1,200,000 people living with HIV (PLHIV) in 2013. 6/7 were aware of being infected, and in 2011 only 37% were getting Antiretroviral therapy (ART).
About 67% of infections are among men who have sex with men (MSM), with higher rates among African Americans and Hispanics.
Read more...
The rate of infection in people who inject drugs (PWID) appears to be rising, linked to an epidemic of opioid misuse. At the same time, condom use is falling, especially among young people.
The USA has both national policies and the policies of individual states, which sometimes conflict. The national policy is failing to meet about half its goals. People living with HIV (PLHIV) in large areas of the country may have difficulty finding appropriate health care; whereas in another area they would have easy access to it. Being poor, or nonwhite, or living in some places, are particularly vulnerable circumstances.
The President (Trump) has proposed heavy cuts in spending on HIV.
(Figures from AVERT, 2016)
TEZ ANDERSON
San Francisco, USA
We had decades to get to understand death inside and out; now we have to figure out how to live.  
Tez Anderson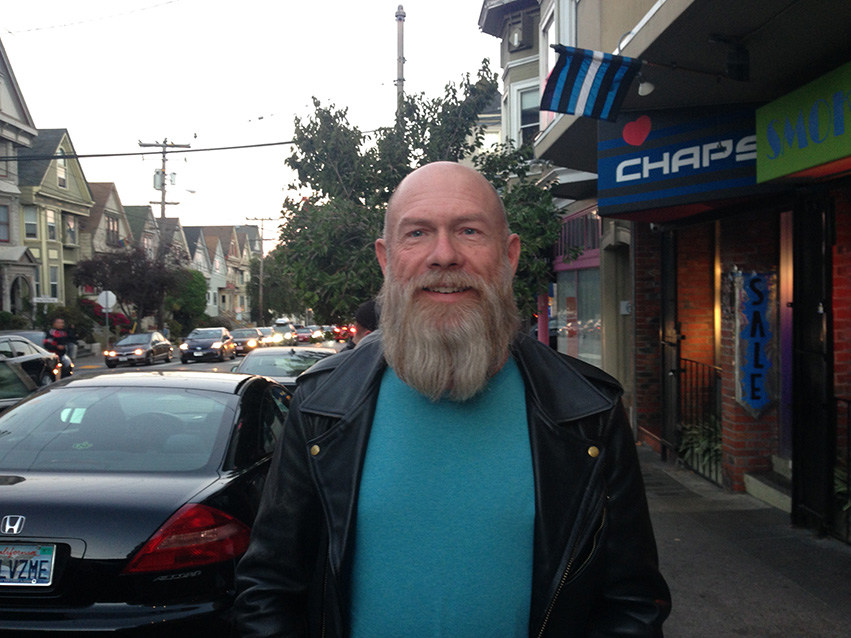 Tez Anderson is the founder of "Let's Kick ASS" ("AIDS Survivor Syndrome"), a grassroots movement of long-term survivors. A gay man of 56, he has lived with HIV for more than half his life: he was just 23 when he was infected.
Those with HIV who lived through the early horror years of AIDS are considered long-term survivors, and in Western countries, they're now in mid-life or older. Since life-saving antiretroviral therapies appeared in 1996, many people want to forget what happened before then, but the terrible years left deep scars in those who survived them. Many lost friends, lovers, community, and families of choice — all their social support networks. The lucky ones who were raised from the dead experienced varying degrees of trauma, something that went unnoticed until recently.
We take the subway to meet Tez Anderson in a bar on Castro Street in San Francisco, one of the first cities where AIDS was observed in 1981. The virus ravaged the San Francisco gay male community. If you weren't dying of AIDS yourself, you were taking care of friends who were.
Now the subway's Castro Street Station is wallpapered with images of a blue pill, Truvada, better known as Pre-Exposure Prophylaxis or PrEP, a pill for people who are HIV-negative that prevents HIV infection. In San Francisco PrEP first gained wide acceptance.
In the 1970s, when San Francisco was known for its freewheeling libertine attitudes, many gay men moved into the gay-friendly Castro district. Walking through the Castro today, you can overdose on rainbow flags; they're practically everywhere — in shop windows, on buildings, as pedestrian crossings. The Castro is historically a global center of LGBTIQ+ activity, and since the Let's Kick ASS campaign began in 2013, it's also the epicenter of a new movement sweeping through the HIV-aware world: the long-term survivors movement.
We meet Tez on the street in front of the bar and immediately feel comfortable. He's a casually-dressed, friendly man with a big beard and a happy light in his eyes. We go inside, where the upstairs bar is full. "It rarely gets this busy on a Tuesday," Tez says, and we move to the small courtyard in back where the waitress greets us and hands us the cocktail menu. With Dirty Martinis as our poison, Tez tells us the story of the Let's Kick ASS campaign.
"After living with HIV for 25 years I became an extremely angry, bitter man, pushing away all my friends. I thought I was losing my mind; that the virus had finally gotten to my brain. A really dark headspace. It was a mystery to me why I was so angry, depressed and anxious. I went from therapist to therapist to find out why. Some were good people, but they all treated only individual symptoms; none of them were looking at the larger picture. One evening I happened to watch a television program about Iraqi war veterans struggling with Post-Traumatic Stress Disorder. A light bulb went off: to me the AIDS epidemic was like a war zone.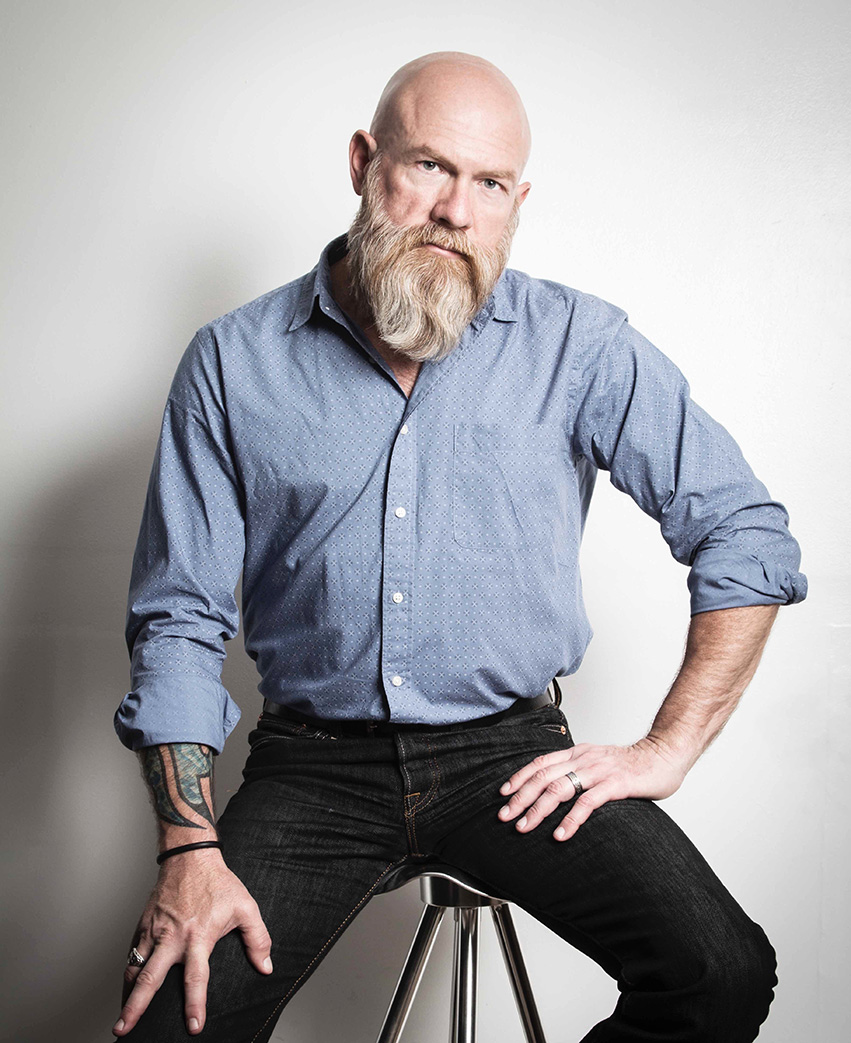 I thought it odd that no psychologist ever mentioned the word "trauma" to me. For a long time, the consensus was that people like me should just be grateful for surviving. But what if surviving alone wasn't enough?"
"As these ideas were circling through my head I shared them with other long-term survivors like me. They told me similar stories. A lot of them had known depression, loneliness, insomnia for days on end, and sudden bouts of anger, all of which I had experienced. Some men had simply given up on life in an enormous downward spiral of drug abuse and poor economic circumstances. Together with a few other long-term survivors, I organized town hall meetings here in San Francisco to discuss our lives. It was cathartic for many of us, and proof that something needed to be done."
As the air becomes crisp in the small courtyard, we order another Dirty Martini and go inside. Our waitress tells us about her other job at a restaurant down the street, and how much she likes this bar. She's a funny lady, and it's clear that Tez is a regular customer here. When the waitress leaves, Tez looks intently over his glass and continues.
"The town halls there were like reunions, filled with people I hadn't seen in years. It was great to see them all again. The gay community in San Francisco used to be very tight-knit during the height of the AIDS epidemic. We had a clear sense of purpose, coming together in our fight against the virus, but when we went on living after 1996, most of us lost that bond. The urgency was gone. But at this town hall meeting it was clear that many of us experienced similar trauma dating from before the introduction of effective antiretroviral therapies. That's when I coined the term AIDS Survivor Syndrome to describe an experience unique to HIV/AIDS long-term survivors."
"Some experts in the field of aging with HIV agree on the existence of ASS. They see evidence of ASS in their patients. And it's not limited to older gay men with HIV: women, transgender persons and straight men with HIV also struggle with the toxic triangle of mental, physical and economic challenges. It's shocking to see how little research there is on trauma with long-term survivors. There has never been such a large population who survived sustained trauma the way we did. It could be a rich pool for researchers on survival, trauma, and resilience. I think we need that research."
"From 1981 to 1996 a lot of young people died. There was a lot of shame, anger and sadness — and uncertainty. The question was: who'll die next? After 1996 there was some relief, but people were still dying of AIDS. We tend to forget that. Also: because of the toxicity of the medications in those early years, a lot of people with HIV were damaged for life with lipodystrophy and neurological trouble. And as most of us know, the psyche can't deal with denial forever. Even if you think you put the trauma of those decades behind you, it can sneak up on you in surprising ways as you grow older."
"With Let's Kick ASS I strive to raise awareness about both HIV long-term survivors and AIDS Survivor Syndrome. People who are struggling should be able to access adequate culturally-aware help. Right now that's not the case. There's very little understanding of the complex issues, the intensity, and the unique experiences of HIV survivors. The good news is how many show true resilience in survival. But awareness of our struggles among providers and agencies that serve people with HIV should be a priority."
"I'm glad that people are beginning to take these issues seriously, because ultimately it means real improvement in the quality of life of long-term survivors. There's still a lot to do, though. I love it that around the US and in some parts of the world, people are starting HIV long-term survivors groups. These often function purely socially, for instance to help people who feel isolated, but they're hugely beneficial. Most of us are at a stage in life when we become reflective and look at the trajectories of our lives. Ours has been unique, to say the least! And we're getting older. How about the awareness of aging with HIV and ASS in long-term care facilities and senior homes, for example?
"Issues of HIV and aging will become more and more obvious in coming years, and therefore it's important to shine more of a spotlight on them at IAS 2018 in Amsterdam. So far we've been talking about the situation here in San Francisco and more or less in the Western world, but long-term survivors are everywhere: in Africa, Asia, Eastern Europe, the Middle East and Latin America. My goal with Let's Kick ASS is to empower, engage, elevate and unify HIV long-term survivors around the world."
And with this final call to action we leave the bar and head back into the street. Tez Anderson – remember that name! With our goodbyes we get a big hug from this man, whose urgency we hope to capture on paper. Around us men pass by looking for entertainment, or a drink, or just someone they can talk to. We head back to Castro Street Station, where the blue pills are smiling at us.
You can find more about Tez on his campaign website: letskickass.org