The United States of America
The USA had a population of 323,300,000 in 2016 amid 1,200,000 people living with HIV (PLHIV) in 2013. 6/7 were aware of being infected, and in 2011 only 37% were getting Antiretroviral therapy (ART).
About 67% of infections are among men who have sex with men (MSM), with higher rates among African Americans and Hispanics. The rate of infection in people who inject drugs (PWID) appears to be rising, linked to an epidemic of opioid misuse. At the same time, condom use is falling, especially among young people.
The USA has both national policies and the policies of individual states, which sometimes conflict. The national policy is failing to meet about half its goals. People living with HIV (PLHIV) in large areas of the country may have difficulty finding appropriate health care; whereas in another area they would have easy access to it. Being poor, or nonwhite, or living in some places, are particularly vulnerable circumstances.
The President (Trump) has proposed heavy cuts in spending on HIV.
(Figures from AVERT, 2016)
SAN FRANCISCO, today and yesterday
San Francisco is a dream city, with success almost literally just around the corner (Silicon Valley) and plenty of tourist highlights like the Golden Gate bridge. We land at San Francisco Airport in mid-January, with 20-degree temperature (68F) and lots of sun. And right away we can see how it used to be…. For us this journey is a trip back in time: in 1994 Bert and Erwin, HIV infected themselves visited the Castro, the gay district, where in the early 1980s again and again young men were being struck down by an unknown disease. But it was right in the Castro where the first HIV and AIDS activists fought for respect and better medical care – not only for themselves, but for the coming generation.
VERASPHERE
Michael and David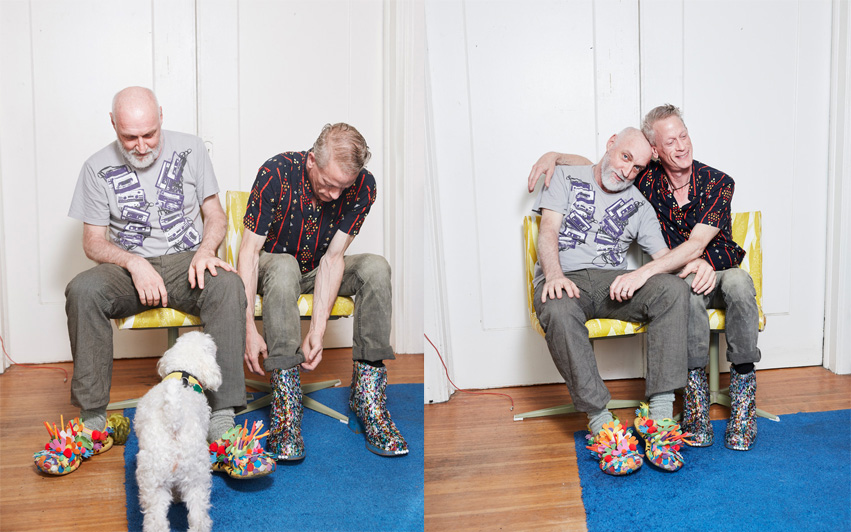 Birds of paradise against the cliffs
They've known each other for more than 24 years, icons David Faulk and Michael Johnstone. They're partners in love and in their boundless passion to create and wear extreme, Fellini-like costumes which lift their world and everyone else's out of the gloom of everyday life. When we visit them in San Francisco we find two sweet and intimate men. Recently they began living as close together as possible: their two front doors open on identical houses where they conceive and make their costumes. They're happy to see us, and welcome us warmly into their homes — themselves also full of color. The walls hold lots of paintings, mementoes and other items. Every object has its story: how it was made, for which party, or at which HIV and AIDS demonstration it was first used.
David and Michael have been living with HIV since the 1980s. They both came to San Francisco. Because of the uncertainty of what lay ahead of them, they lived from moment to moment. Michael, who has been transforming every object around him since his childhood in Scotland, used his talent to create fanciful costumes that explode with color. Together with David, who puts on makeup and participates as much as possible, for years they've persisted as the birds of paradise at parades and happenings. In the early 1990s, as the AIDS epidemic advanced in San Francisco, the art with which they created characters larger than life offered a breath of fresh air to deal with all the misery. Their unique creativity was their answer to that.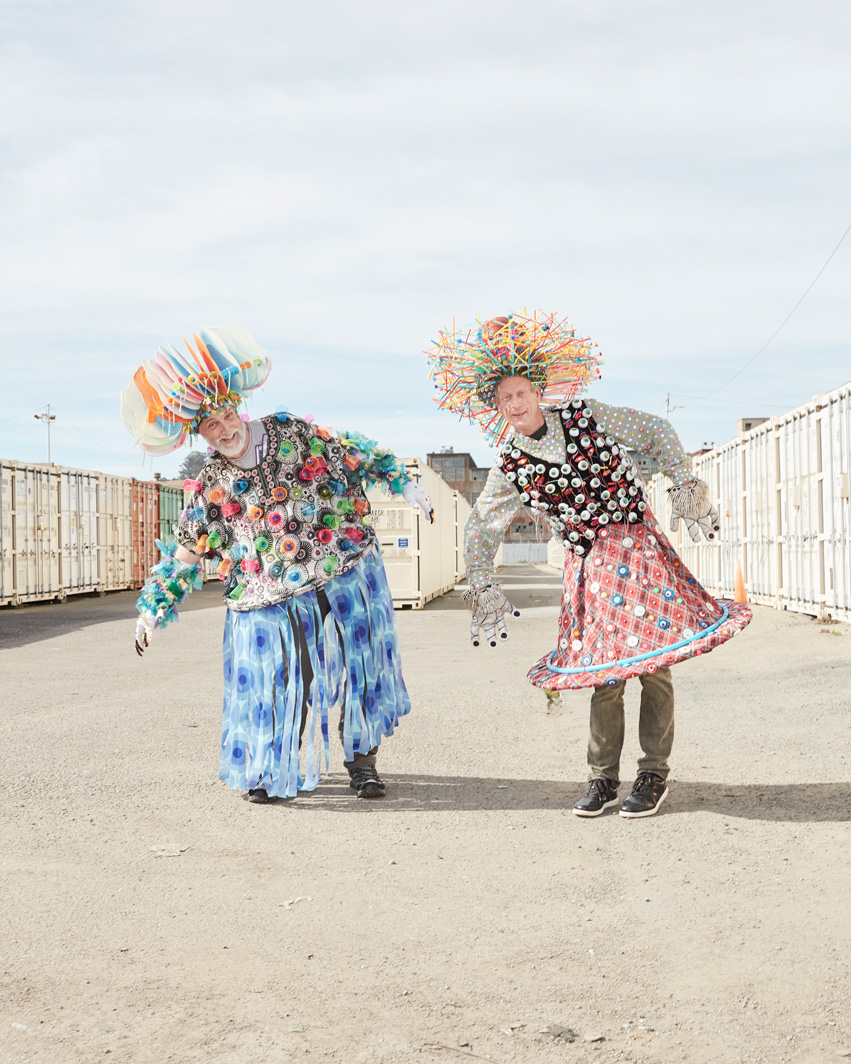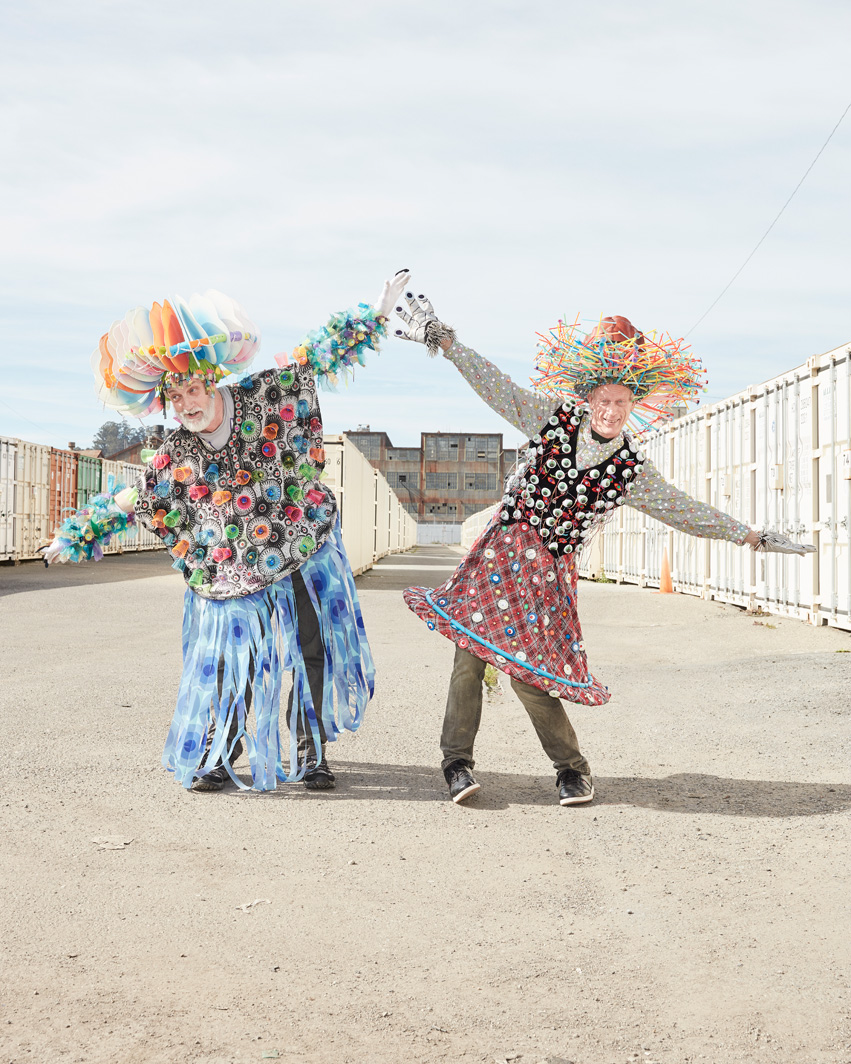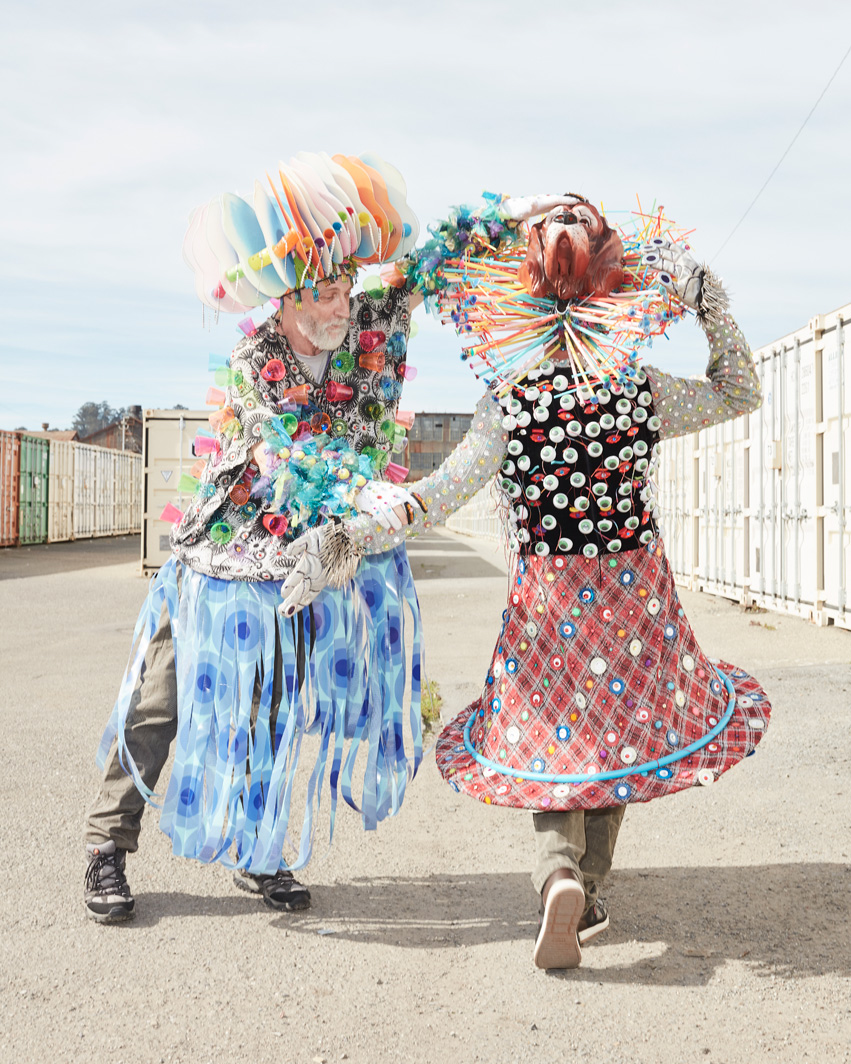 Nowadays the house has no more room for the hundreds of costumes. Erik, our photographer, is very enthusiastic when David and Michael show the walk-in shipping containers where everything is stored. This is where they display everything and keep track of it all. David and Michael can easily costume up to 60 people on short notice, and yet every item is assembled personally. Some material comes from 1-dollar shops, but by far most of it consists of recycled material: straws, caps, plastic containers… everything has a use.
They transform literally everything and everyone into a huge Alice in Wonderland with rough edges. David and Michael are internationally known, and they get requests from Asia to dress HIV / AIDS and LGBTQI events. They've also collaborated with recognized international fashion houses. What continues to be their answer and their motto is "Keep the community alive!" Their approach never becomes less provocative, but passionate, expressive, and courageous!