The Russian Federation
The Russian Republic either doesn't track or doesn't publish reliable figures for HIV among its 144,300,000 inhabitants. Thus, all the figures here must be estimates, and those vary widely.
Read more...

Russia has the largest HIV epidemic in Eastern Europe and Central Asia, with ca. 1,500,000 people living with HIV (PLHIV)—the majority of all European HIV cases. It is the world's only region where HIV infections are rising, up by 149% since 2006. It had 98,200 new cases in 2015, and largely accounts for the total increase of European cases. 37% of adult people living with HIV (PLHIV) are getting Antiretroviral therapy (ART).
People who inject drugs (PWID) account for 58% of HIV transmission. Other key populations include sex workers, prisoners and men who have sex with men (MSM). However, the rate from heterosexual sex is rising, so the epidemic may be shifting into a larger population. Women account for more than 38% of new cases, and rising.
HIV and men who have sex with men (MSM) are widely stigmatized in Russia, and punitive laws discourage people from seeking out necessary services.
(Estimates from AVERT, 2016)
Maxim Malyshev
"WE NEED RADICAL CHANGES"
It's unclear how things stand with regard to the HIV epidemic in Russia. International organizations consider official Russian figures unreliable. On the UNAIDS web site, all numerical and statistical data from Russia is "NA" (Not Available). On other well-known sites, like AVERT (1), you'll find only estimates. But everyone agrees that the epidemic in Russia is spreading and essentially out of control. The official Russian count now stands at a million HIV infections, but some researchers think that by 2020 it will hit 2 million. (2)
Russia is one of the few places on Earth where the epidemic is spreading, while even in Africa the situation seems slowly to be getting better. That made the situation in Russia one of the main themes at the 22nd AIDS conference (AIDS 2018) organized in Amsterdam.
When the epidemic began in the late 1980s, drug users made up the biggest group of HIV infections, at more than 60%. AVERT estimates drug users still make up the majority of new infections, at 54%: dirty needles are the main way the virus spreads. That's why Russian NGOs concerned with harm reduction, who walk the nighttime streets to hand out clean needles, are very important in holding back the HIV epidemic.
In an Amsterdam café we talk with Maxim Malyshev, a leader of the Rilkov Foundation, a Russian NGO occupied with harm reduction since the 90s. Maxim just happens to be in the Netherlands: he's traveling around Europe and is in Almere visiting his old friend Anna, who translates for us.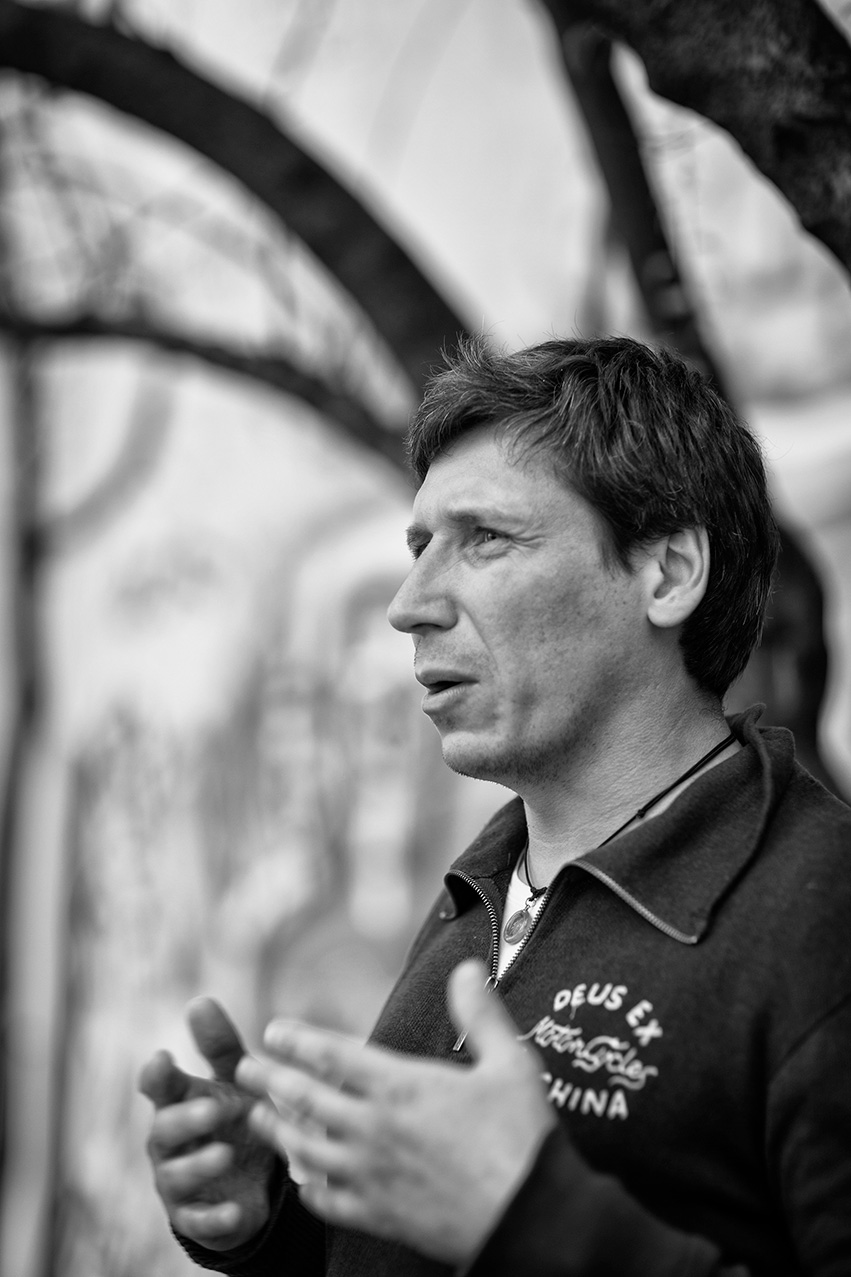 Are you infected with HIV yourself?
Yes! I was diagnosed in 1997. I was in my second year at Tvez University, aiming to be an engineer. But like a lot of my friends, I was a drug addict — a classic junkie! Russia doesn't do much about dealing drugs, but using drugs is punishable. I was arrested and convicted. The detective in charge of my case forced me to take an HIV test.
Did you know much about HIV? Did you know what were the possible consequences?
I knew practically nothing about HIV. All I knew was the most dramatic aspect: you died from it. The diagnosis hit me hard. I didn't know how to handle it. I got hardly any information out of my doctors, and I wasn't treated.
I was convinced I was going to die in a few years. My addiction made it twice as hard. Drug users had to — still have to — deal with a very repressive regime. It had become impossible to go on with normal life. I began more and more to doubt whether my studies served any purpose.
I held onto the intention to stay alive into the new millennium. I'm curious. Always have been. I wanted to see what the world would look like in the new century.
Did you tell anyone else that you had HIV?
No, I kept it secret for 10 years. For my family it would only have been only a source of stress. And telling my friends would put me in a vulnerable position. Would they still accept me?
I needed those 10 years to come to grips with myself. For a long time I tried not to think about my HIV status. I thought: maybe they made a mistake with the test.
My drug use helped me in that. It took until 2007 for me to come out with it. After that it took another 5 years before I went for treatment. The decision was tough: after being an addict for so long I didn't want to become dependent on drugs again.
Anna adds, "His resistance was very low. He was sick a lot but he refused to take the medication. It costs his friends and me a lot of effort to get him to that point."
But in 2012 you'd been working for the Rilkov Foundation for years!
I told you: I've always been a curious boy. In 2000 I was living in an open drug scene. For the first time, clean needles were being handed out. That awakened my interest. I began to read everything I could find about harm reduction, asking people questions… I finally volunteered at the Rilkov Foundation in 2001 or 2002. I wanted to warn and inform other users.
At the time I was living in Tvez, a beautiful city. Only much later did I move to Moscow, and I'm still happy I decided to do that back then. It feels good to make myself useful this way. It's meaningful, important work. I live in Mocow for 5 years now and I'll go on doing that for as long as it's necessary."
The Rilkov Foundation remains one of the few organizations in Russia working on harm reduction. The government is fully committed to a "zero tolerance" policy that excludes harm reduction, going so far that the term can't be used in official Russian policies. (3) Estimates vary of the number of users, but the lowest estimate is 2 million. (4) The Russian government is calling for a "cold turkey" policy to combat the problem.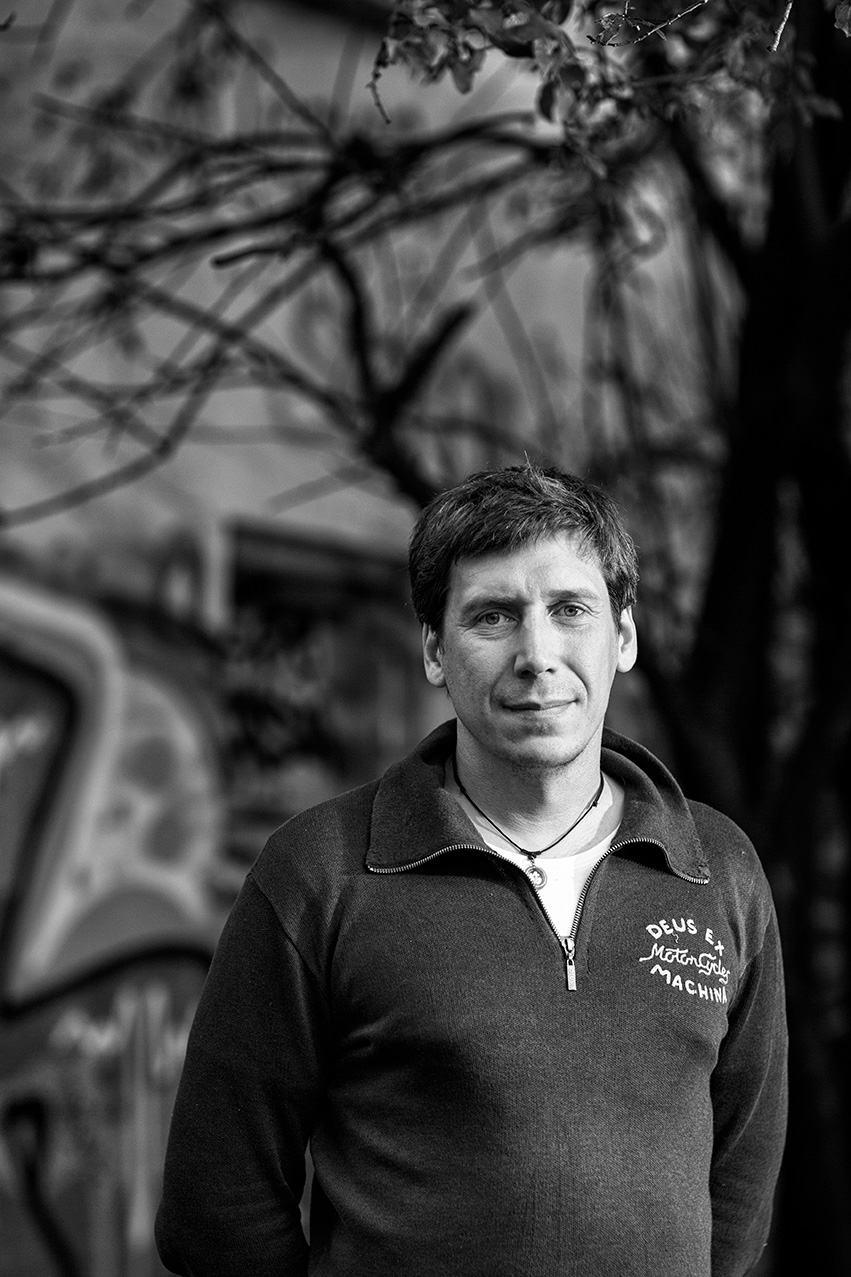 How is medical care now for HIV patients?
Fortunately, nowadays there's almost always enough medicine for the patients. But the relationship between the doctor with the authorities on the one hand, and the patient on the other, is still complicated. Most HIV patients haven't much faith in their doctors and government policy.
To get medication you have to register as an HIV patient in the city where you live. But people are afraid the registration system will be abused. Some refuse to register, which means that it's tough for them to get medication.
Another point is that the medicine known and used everywhere else on Earth is more and more being replaced by medicine made in Russia. That's cheaper, says the government. This means that from one day to the next your doctor may give you new pills, and you won't know if they're as good and reliable as the old ones.
That happened to me. At the moment I'm not suffering much from side effects, but nowadays I have to take 6 pills daily, much more than a few years ago. Because of my work and my position, I see better doctors and it's easier to discuss things with them. But I'm an exception.
What can we and should we do from the Netherlands to improve things for the Russian HIV community?
He sighs and for the first time is visibly annoyed. He and Anna talk in Russian with rising voices. At the other tables in the busy Amsterdam café all talk comes to a halt. Russian passion and tension fill the air. For minutes!
When they finally switch back to English, we hear the dilemma that not only Maxim and Anna are struggling with, but also much of the international community.
"Forget the politics and send us money." answers Maxim.
"No", says Anna. "You have to keep talking. Without dialogue you'll get nowhere."
Next year the AIDS 2018 conference will take place in Amsterdam. Scientists, politicians, doctors and community members from all over the world will come together to talk about HIV and AIDS. The situation in Russia is one of the conference's most important themes. Do you think that may help you?
What we need is money, money, money. The Global Fund will stop funding the Rilkov Foundation at the end of this year. How will we pay for our clean needles? Nobody wants to support us. Even the Netherlands has stopped supporting us.
Yes, if you ask me, I have to say I feel abandoned by the international community.
In the meantime there's so much to do: organizing training, getting information out, projects on the streets.
Are you planning to visit AIDS 2018?
That depends… Only a handful of people from Russia came to the previous conference in Durban. Even preparing such a conference is just a matter of dialogue, and the problem is that dialogue with Russia is impossible. You shouldn't waste time on meaningless dialogue. We want help.
You're angry!
As quickly as the tension rose, it disappears again. He relaxes.
No, I'm not mad at the world. Anger gets you nowhere. I couldn't do this work for 10 or 20 years if I were constantly angry.
But how can harm reduction go on now in Russia?
Something has to change radically if we're going to manage the HIV epidemic. All we can do is to go on with what we're already doing.
He's becoming a bit restless. Tomorrow they leave again. Amsterdam looms. There's more to life than drugs and HIV.

When is a day a good day? What makes you happy?
There are a lot of good days! There's a lot that makes me happy: my friends, the opportunity I have to travel, evenings I can spend on the streets with my people!
Finally, if you could say one thing to Peter Reiss, one of the two chairs of AIDS 2018, what would it be?
I'd tell him that we're happy with any support he can give us, but that he shouldn't believe in a meaningless dialogue.
Meanwhile some Russian friends have joined the conversation. Happy goodbyes are made. We're invited to join their people in Russia as they take to the street at night, and see for ourselves how important harm reduction is to fight the growing HIV epidemic in Russia.
1. avert.org/ Global Information and Education on HIV and AIDS.
2. www.independent.co.uk/news/world/europe/russia-aids-expert-warns-his-country-faces-worsening-hiv-epidemic-10252064.html
3. www.harm-reduction.org/blog/russia-science-and-global-war-drugs
4. avert.org/