Louise Van Deth at the Aids conference in Durban.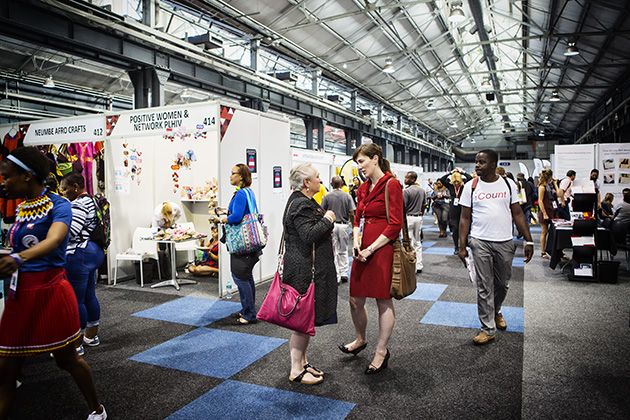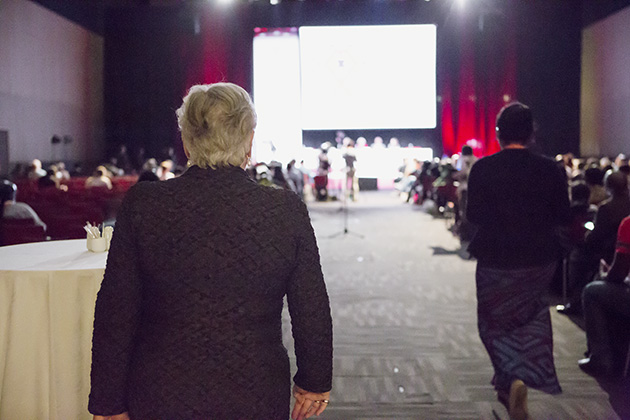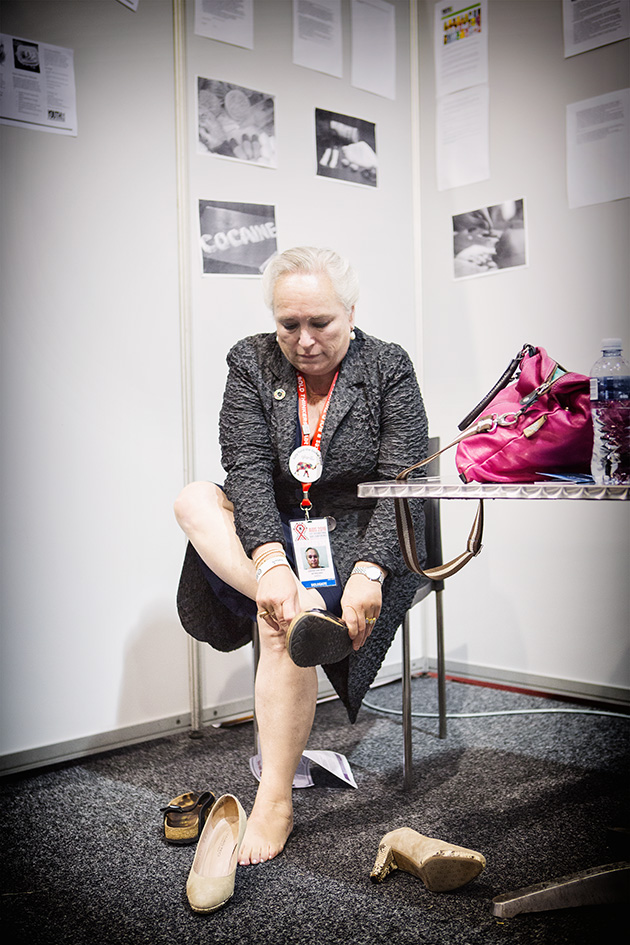 REBEL ON A MISSION
Louise van Deth (1956), has been the director of the Aidsfonds, STOP AIDS NOW! and SOA AIDS Netherlands since June 1. These three organizations constitute the flagship of the Dutch fight against HIV and AIDS. They are also internationally renowned, which give van Deth's position a special responsibility.
Part of her work for the next two years is to help organize Amsterdam AIDS 2018, the largest AIDS conference in the world. Twenty thousand people will travel to Amsterdam for this conference. Who is this woman who wants to eliminate aids from the world by 2030 and who is responsible for making a success of AIDS 2018?
"I was lucky with where I was born. As the oldest of four children, I grew up in Bloemendaal, in a nice, safe area. Our family were members of the Dutch Reformed Church. My parents took this seriously. My father was active as an elder and we went to church every Sunday. Partly because of this I inherited a great sense of responsibility.
My father was director of an international family business in seeds and spices. He imported mustard seeds from Canada and sold them to mustard manufacturers in France and Austria. My father's two beliefs; the church and business, made me a daughter with a classic Dutch character. That suits me. I deny neither. In my work I like to combine idealism with a business approach.
I was born bossy. You can see that from pictures of when I was a baby. Although of course, I wasn't aware of it at that age. But in the third grade at high school I was already president of the school board; the first girl in that position.
My time at high school was defining in two ways. I first came into contact with real culture and literature … Oh, the lovely way they were treated. So wonderful! Those great classical masterpieces! Virgil* left the biggest impression. A text from 2000 years ago in which feelings are described which are still relevant today and is still with me even now!
School was the first place that knew how to deal with my contrary character. Yes, I was quite rebellious. Sometimes downright impossible. At home if they wanted to walk, I wanted to cycle. I always wanted something different than the others. At school I was taken seriously. I poured my heart out to the headmaster, Mr. van Amerongen, many times and felt that he really listened. I wish every rebellious 15-year-old a mentor like him."
The Aidsfonds and her role as director
"I came here 8 years ago as Director of STOP AIDS NOW! At that time, the three organizations had their own management team. From 2013 I formed a team with Ton Coenen that was responsible for the entire organization. I knew the organization well, but it was certainly not a done deal when Ton left and it was decided that there would be a new director's position. I had to apply for it. Now that I am solely responsible, I'm busier. I have a full agenda. But I am now able to connect everything better and much more quickly. I feel at ease sitting in this chair.
Our policy has four key points. We want more people to be tested. We want to remove the barriers preventing anyone taking an HIV test. We want the Civil Society to maintain its role, because support and care from within your own environment is often irreplaceable. And we support scientific research.
I'm happy with my club. We are often the forerunners, both in content and with our marketing. I particularly appreciate the entrepreneurial spirit of my colleagues. I sometimes describe us as the entrepreneurs among the charities.
A vanguard organization? Well, let's not exaggerate. Our turnover is 55 million, while globally 21 billion is spent on hiv and aids prevention. But we are more than a drop in the ocean. The Dutch Approach works. As a country we dare to talk about sensitive issues. We give key populations such as sex workers, drug users and gay men respect and attention. With us the focus always lies with the communities who are affected. This approach gives us an international face."
The future of the Aidsfonds and AIDS2018
"The aids conference in Durban this summer was a success for the Aids Foundation. On many occasions we were clearly visible. But I left Durban worried. For the first time in 15 years the number of new infections has not decreased, and has probably even increased slightly. At the same time, contributions by international donors has decreased for the first time in five years. These two new facts constitute a poor basis for achieving our goals.
It now comes down to this! The next five years will determine whether we, as internationally agreed, are able to speak in 2030 of 'the end of AIDS'. If we want it it's possible; a world in which no one dies of AIDS, a world where no one else is infected with the virus, a world in which everyone with HIV has access to good medical care.
It is important to fully go for this in order to combat the lack of urgency. Especially in the West, where many people think that we are already there, that things will not get any worse. I try to bring the importance of this closer to people with the facts. I say, 'Did you know that globally AIDS is the biggest killer among young women? Did you know that every year there are 1000 new infections in the Netherlands?'
In two years' time, in July 2018, we will be organizing AIDS 2018 here in Amsterdam. We are halfway through that period of 5 years. It's very simple; if we are no further in 2018 than in 2016, then we will have moved backwards. That means that we have to make great strides in the fight against stigma and discrimination in next two years; and according to international agreements about 30 million people should have been treated by 2020.
But more is required to really make a success of AIDS 2018. Only when the good people from Eastern Europe and Central Asia are present, when young people are heard and the groups hardest hit are given a place, only then can we say that it has been a successful conference."
Final reflections and a photo…
"This morning at a meeting for MP's and NGO's I met Loyce Maturu. A young woman from Zimbabwe with a terrible past. Born with HIV, orphaned young, expelled from her community, and after a suicide attempt finally she ended up in a safe environment. She managed to overcome all the misery. Now she is one of the Young Leaders who tells her story all over the world and speaks with great authority. Such people inspire me. That's why I want to do this work.
I'm 60 now. I've learned to curb my impatience. I'm still that angry do-gooder from the past, but I am also a grown woman. I have learned to give business and emotion their own place…
Then for a while she searches on her phone for a photo. Just before she's called away for her next appointment she finds what she's looking for. It's the picture of her as a baby frowning at the world in her grandmother's arms.
You see, born bossy. Just like my grandmother. When you look at this photo you think straightway: she's going to be one…!"
* Virgil was a Roman poet (70-19 BC), and wrote Aeneas as well as many other works.