Suriname
Suriname, the smallest country of South America, had a population of 558,000 in 2016. 4800 were adult people living with HIV (PLHIV), 62% of whom knew their status, and 48% of whom were getting Antiretroviral therapy (ART). There were fewer than 500 new infections.
Read more...

Among pregnant women with HIV, about 89% were accessing treatment or prophylaxis to prevent transmitting HIV to their babies.
Sex workers are a key vulnerable population, with an infection rate of 5.8%, and 99.3% condom use, followed by MSM with 53.3% condom use.
HIV transmission occurs more within ethnic groups than between them. (NIH)
(Figures from UNAIDS, 2016)
"MY WIFE AND I WERE BOTH TESTED FOR HIV"
Paramaribo, Suriname
When we speak to him, Patrick Pengel has been Minister of Health for nearly a year. For many, he was a surprising choice. Pengel was after all a building man. He graduated as an engineer in Amsterdam and before he became a minister he'd worked for 4 years in the bauxite industry and 7 years as manager of a company that manufactured concrete products. But you don't get asked every day to serve your country, he says. He thought seriously about the request and decided to accept the challenge. "I said a resounding 'yes'."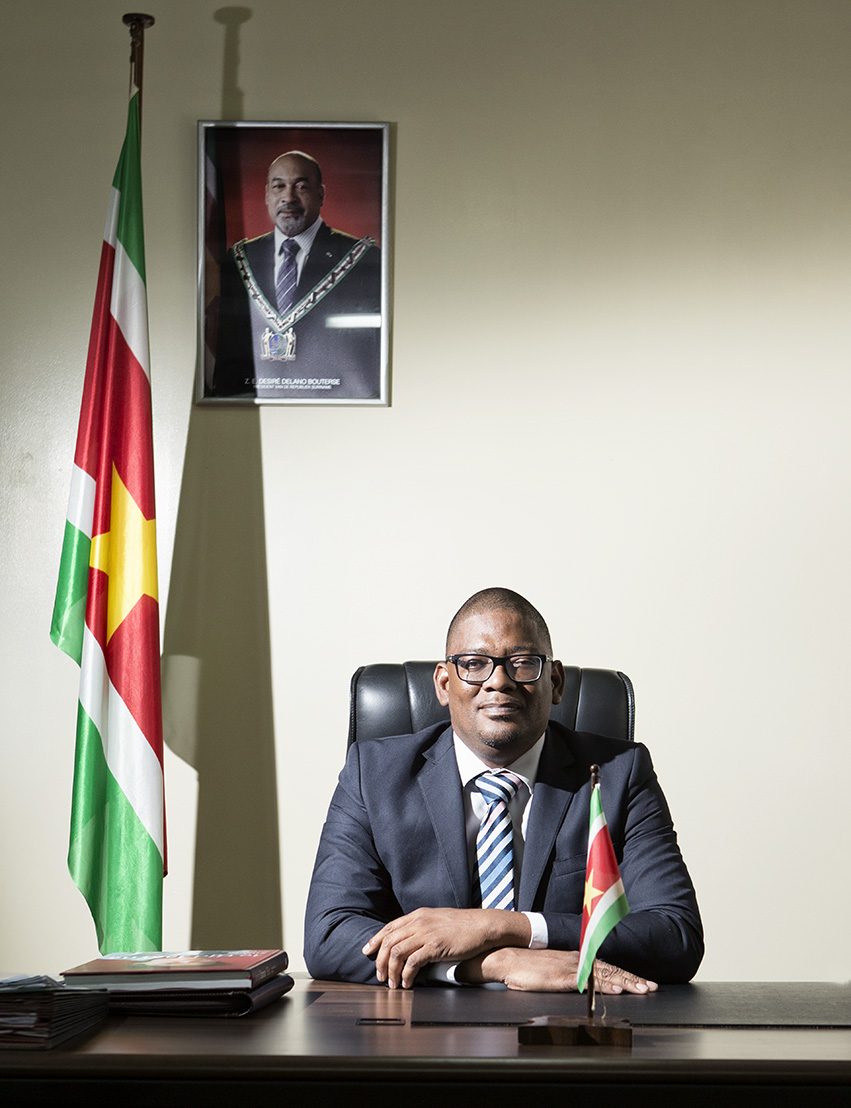 His staff soon helped him find his way around the department. About one disease they did not have to tell him much. "Of course I knew about HIV and AIDS when I started this job. No family has been spared here. Including mine."
We are welcomed warmly. The minister takes much more time to talk than agreed and he doesn't evade any questions.
Were you familiar with the issues surrounding HIV and AIDS when you started this job?
Of course. HIV and AIDS is all over the world. And has been for decades. Many people have died of this disease. In Suriname it touches every family.
Even yours?
Even mine. In 1999, a relative of mine died. That was the first time I had been involved with HIV and AIDS. It affects you when that happens.
Was it a difficult transition from your work in construction to health care?
I was initially a bit uncertain but that soon went. You don't have to be a doctor to carry out this position successfully. When I started, I first analysed the problems with my staff. The biggest challenge for me in the future is to improve the organization. How do we manage with the available funds! How can we manage the best with our equipment? Where are the most suitable places for our doctors and nurses? It all starts with the preparation of a strategic plan and the formation of a good team. We are working hard on this.
How would you assess the situation regarding HIV and AIDS in Suriname?
HIV and AIDS in Suriname were first heard of in the 80s. Since then a strict programme has been implemented. The necessary steps about education and prevention have been taken. But unfortunately this has not prevented many becoming infected. The number of new infections grew rapidly in the '90s.
As with any epidemic, you have to change the strategy. We have done. We have worked hard to disseminate information and involved many people from the risk groups in our work.
Have all these efforts helped?
Fortunately they have. Over the years, the number of new infections has decreased and the number of people being treated has actually increased. Partly as a result of, for example, the sharp drop in the transmission of the virus from pregnant women to their babies. There are now far fewer infected babies born (in 2013 and 2014, the number was zero).
That the number of people living with HIV continues to rise is mainly due to the fact that fewer people with HIV die. You can now grow old with HIV.
But at the same time I want to say that in some areas there is still much room for improvement.
There follows a passionate speech in which he says that addressing the stigma needs more attention. One way to do this is to take sex workers and LGBT community out of their isolation. Discrimination has no place in a modern society, he says.
How important is the empowerment of minorities for a successful HIV and AIDS policy?
The men and women of the LGBT community should be a normal part of society. We are a traditional, sometimes old-fashioned thinking country. This is in part due to our upbringing, and I say this personally, also in part by our religion. But fortunately there are many good people who make these topics discussable and dismiss all the secrecy. Even within the church.
We must learn that personal orientation can vary. If minorities are better accepted, they emerge more easily from the shadows. They will then use public services more. They will be better informed and help protect themselves against HIV.
What is worrying is that there is a group of people that we suspect are HIV positive, who have not yet been tested. Therefore they don't know their status. We want this group to be tested so that they can be treated and then carry on living their lives.
What do you think should now be done first?
Our plan is still to achieve the 90-90-90 target * set by the UNAIDS 2020. We are working with international organizations to achieve this. We are required to report to the UN organizations about the progress we make. This is important because this way we keep our finger on the pulse.
As well as this, one of our biggest challenges is to ensure that there is always sufficient medication available and that people remain faithful to their HIV therapy. The drugs work well today, but you have to take them faithfully each day otherwise you'll be in trouble. One success is that we have involved the first-line care in HIV care. Nowadays, as HIV-infected you can also be treated by your doctor. You no longer have to go to a specific HIV doctor or HIV clinic. That's good because that is perceived as stigmatizing by many people.
He talks enthusiastically about the role models within the HIV community, who are so important in breaking down the taboo about HIV. He mentions former US basketball player Magic Johnson. He hesitates when we ask about Suriname, reluctant to forget someone or to compromise anyone. But Ethel Pengel, founder of Double Positive, a self-help group for women, is absolutely no stranger in the community. He even calls her "one of our angels. There are also others such as peer counsellors and doctors who have been at the forefront of the HIV response in Suriname from the start. These people do "much good and have been very important in helping us achieve what we have up to now."
What can you do? How do you see your role?
I, together with my team, must develop and implement policies. I have to make sure we do not lose sight of the priorities in our policy and that we continue to compete for available resources. We desperately need this to keep Suriname healthy.
As Minister I think I am a role model. I want to show how important it is that we all take responsibility. A safe sex life is a healthy sex life. That is the message we convey.
Where would you like to be in five years' time in terms of HIV and AIDS?
We would like to punch a big hole in the number of new infections in the coming years. On the way to zero! I would like nobody else to die as a result of HIV and AIDS. Also on the way to zero. I want the number of people who receive treatment to increase substantially. And I would like us to be successful in our fight against stigma and discrimination. We are not doing too badly compared to other countries in the region, but there is much room for improvement.
You know, we as humans, are put together strangely. We accept it if a family member is homosexual or HIV-infected easily, why should we not accept it as easily if it affects our neighbours? The essence lies in how we, as people, interact.
What is your message to the community with regards to HIV and AIDS?
I would say, take action. Make sure you do not get it. But do not be afraid and get tested. That is very, very important. If you know your status, you can protect others. Your family, the people you love. We must rise above the fear together. My ministry is committed to keeping the facilities up to standard and to helping you. Nowadays, there are good possibilities if you're positive. Also in Suriname. You can have a good life even with HIV.
You attach great importance to the fact that people get tested. Do you know your own status?
Yes! My wife and I were both tested at the start of our relationship. And we promised each other faithfully. It would be nice if that was normal for people if they want a serious relationship
* 90-90-90 One of the main objectives of UNAIDS is to ensure that by 2020 90% of all HIV infected people know they are carriers of the virus, that 90% of this group take triple combination medication, and that 90% of this group does not have a traceable amount of virus in their blood.