Zambia
Zambia has a true HIV epidemic on its hands: its 16,590,000 population has 1,200,000 people living with HIV. (PLHIV), 85,000 of them children. 2016 saw 59,000 new infections, among them 8900 children. 380,000 children have been orphaned by AIDS.
Read more...

The most affected groups are sex workers (56.4%) and prisoners (27.4%). Unprotected heterosexual sex drives the epidemic, with 90% of new infections recorded as a result of not using a condom; followed by people who inject drugs (PWID) and mother-to-child transmission.
Same-sex intercourse is illegal, making it difficult to gather information about men who have g sex with men (MSM), much less target them for education, testing and treatment.
Young women are infected at a higher rate than same-age men; they're generally less educated.
Zambia has increased access to Antiretroviral therapy (ART), especially for pregnant women, but has not succeeded in significantly lowering the general rate of infections.
(Figures from UNAIDS & AVERT, 2016)
PEER-GROUP
Lusaka, Zambia
CHABALA, MAPALO & JOHN are all members of a Peer-group for adolescents who are infected with the virus. They are not afraid to show themselves and talk about their work and the importance of it.
Chabala
Mapalo
John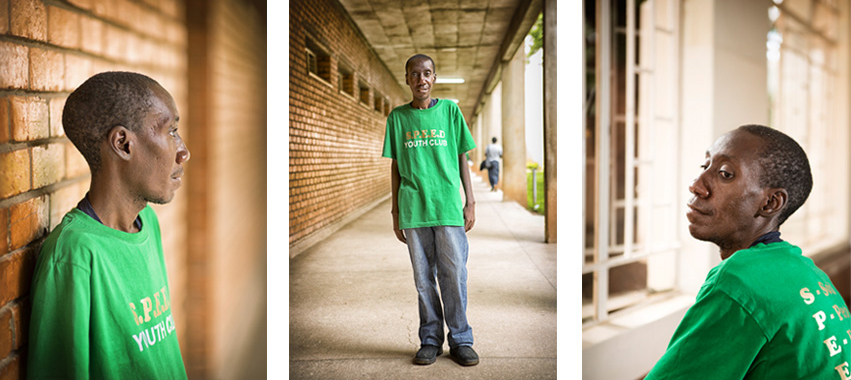 Buddy
I am sitting in a garden with a father and his son. Nothing strange about that, you might think. You can find fathers and sons together all over the world. But this is a special encounter, because this father and this son are both infected with HIV. In Zambia, you don't often see that. And the number of fathers with HIV who are not only a father but also a Buddy for their son is even rarer…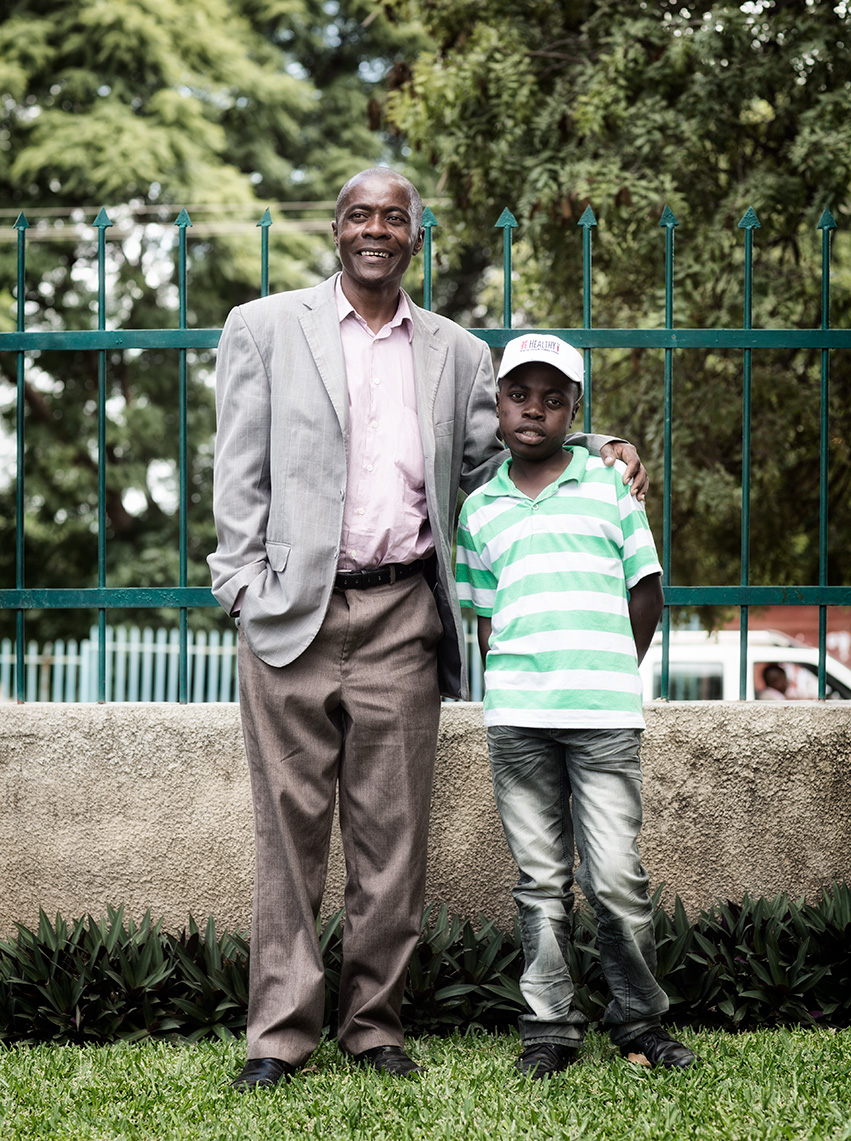 Mr Kachidza is therefore not only Enock's father but also Enock's safety net and friend; the man who has publicly promised to stand by him and support him. Especially when times are difficult.
Seeing them together, this Buddy and his son, here in this garden, next to the hospital's children's ward, dressed in their best and a little nervous for the things to come, is in all its ordinariness a heart-warming experience.
They got up early. It was a long journey. Mr Kachidza didn't mind. He had asked Enock's teacher if Enock could do his science test earlier than the rest of the class, so that they wouldn't arrive late. And because he doesn't walk well due to severe neuropathy, he had pre-arranged transport for this tiring day.
Mr Kachidza is a proud but gentle man. In well-chosen words he tells his life story. What strikes you immediately, another rarity in Zambia, is that he is over the shame. Even to the most sensitive questions he gives honest answers. Enock, 15, is more wary. Shy, tired perhaps by fifteen exhaustive years and an uncertain future, he speaks with a hoarse voice in short sentences.
His father starts our conversation.
"Enock is a fine boy. Mischievous! But at school he always does his best. He gets good grades. I have another son. Also a good young man. He is 18. No, he hasn't got the virus … That's it. There are three of us. The boys' mother, my wife, died. In 2008. Because of the virus."
Are you happy at home?, I ask Enock.
"Yes."
Do you get on with your brother? Do you do a lot together?
"Yes. I love my brother."
And your father …
"I love my father very much."
He means it.
His father laughs and continues.
"I heard that I had the virus in 2001. Unfortunately it was too late for Enock. His mother was already breastfeeding him… In the beginning it was tough. I had a lot of opportunistic infections. There was always this diarrhoea. I didn't take any pills. They weren't available and if they were, they were very expensive. Many people went abroad to buy pills in South Africa. Now it's better. Nowadays the pills are free."
I have not come across anyone in Zambia who talks so openly about his HIV as you. Many people seem afraid to talk openly.
"I am a Christian. I accepted it and am not afraid."
No, you're not afraid. You are brave!
"Well … brave … You know, not everyone is brave in the same way. Some are brave with a lot of noise, others in silence… I am open about my virus because I sought help. If you're not open, you will not find help. The virus needs special attention otherwise you will not survive…
Yes, my wife was also open about it…But not like me. Not so much."
How is your health? Are you getting the right medication?
"It's ok. Here in Lusaka, we are treated at the best hospital in Zambia. They have good doctors here, and the pills are always available. In other hospitals it is sometimes not so.
We are on track. Previously, you died from the virus and money wasn't spend correctly. Mistakes were made. Now it's better. It is now normal to say that you have the virus.
I just have a lot of pain. That's because of the neuropathy. That's why I can't walk very well anymore. It's a shame because I can no longer work. But otherwise I'm doing ok."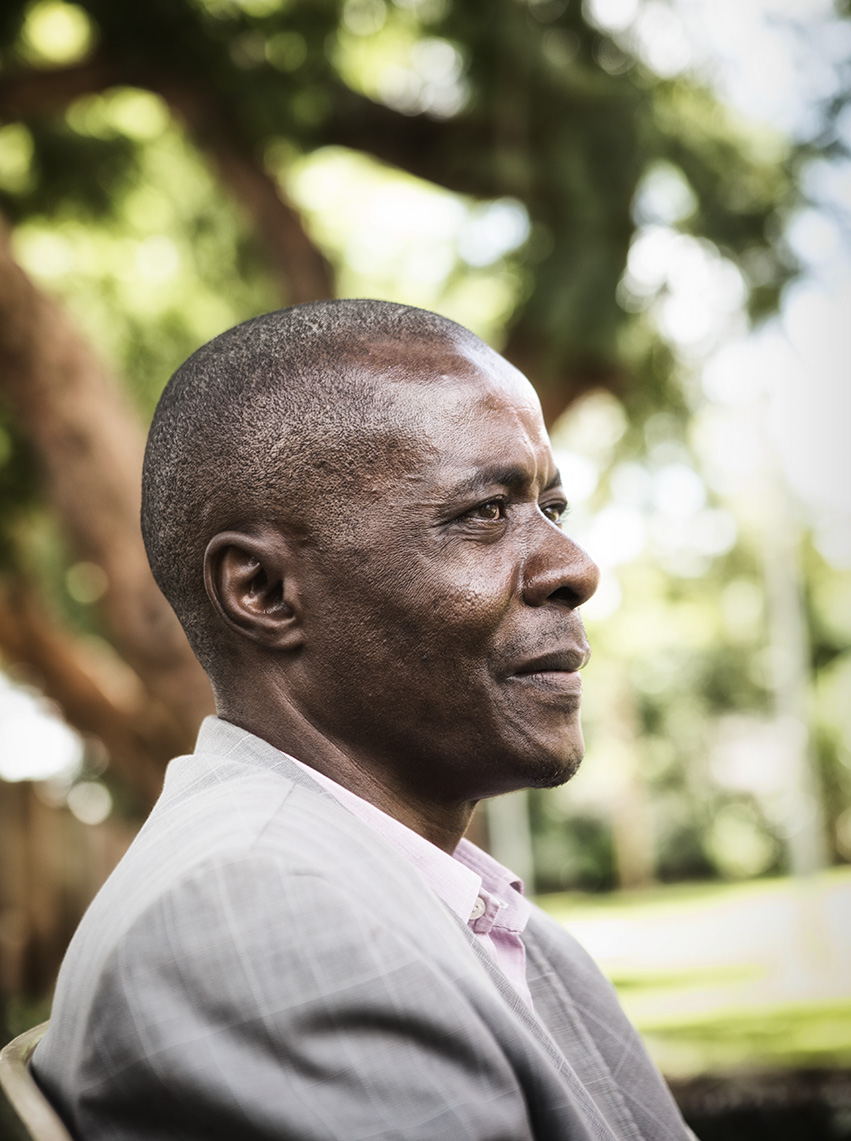 You're an optimistic man!
"I have a lot of support from my faith. God helps me. I was a believer before I had the virus, but now it's stronger. I can't let my boys down. Enock has come so far… He was sick. For 20 days. He could not keep any water down, nor food. The doctors did their best. And God. Faith has been a big support."
It's warm. Even in the shade. Mr Kachidza wipes the sweat from his forehead. He keeps his jacket on. In the background the city races by. I take a sip of water and realize that Mr.Kachidza and Enock have had nothing to eat or drink. I offer them my bottle but they politely refuse. Enock remains reserved. He's a proud guy. He looks younger than he is, as do more of the children we meet. Eleven, twelve at the most, but certainly not fifteen.
What do you do in your free time?
"Football!"
Who's your favourite club?
"Joyce! But they won't be champions."
And what do you want to be?
"Doctor!"
All the children we talk to here want to be a doctor. Or a lawyer. Because they all want the same. A healthy life in a just world. His father helps a bit with the conversation.
"Enock is being treated by doctor Moela, a very good doctor. They have been working with him for eleven years now. He is doing well."
Have you got many friends?
He nods.
"But I also play with my father… He reads to me a lot."
What's your favourite book?
"The Bible!"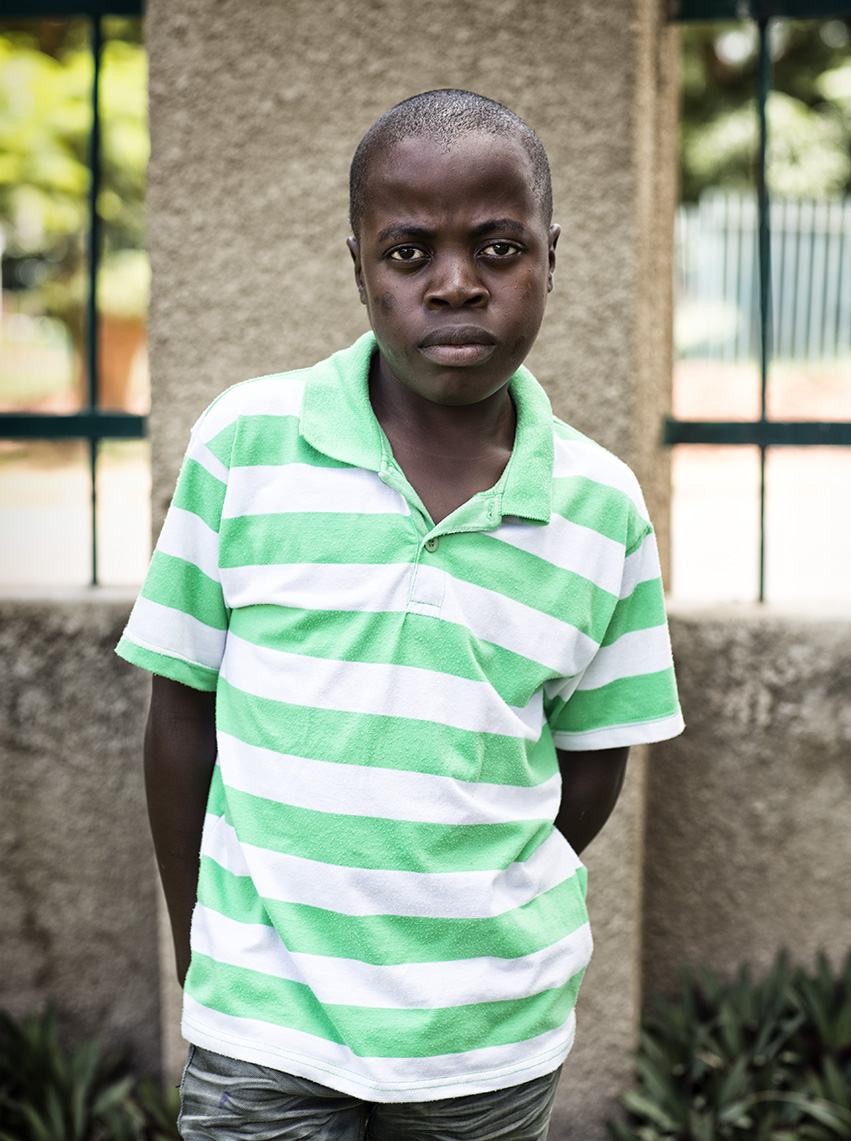 Have you got a favourite Bible story?"The best story is the story of Noah and the ark. Those were hard times, and the world seemed doomed to perish. But Noah had an ark and said everyone was welcome in the ark…"
He speaks for ten minutes without the slightest hitch. He knows the story through and through. No detail is left out. All the animals are named, all the calamities that they leave behind are mentioned. The story has a happy ending.
Thankfully.
When he's finished, he is visibly tired. But doubly proud. This is his favourite story and I understand why. Not much later we say goodbye. Mr Kachidza thanks us for taking the time and effort. He doesn't want us to thank him. And no, the offer to arrange transport back home, is really not necessary.
With one hand leaning on his stick and the other firmly holding Enock's hand the proud father and his proud son walk slowly out of the garden, into the busy city.
Coming soon more photos and filmed portraits from Zambia