SURINAME
On the way, 20 March 2016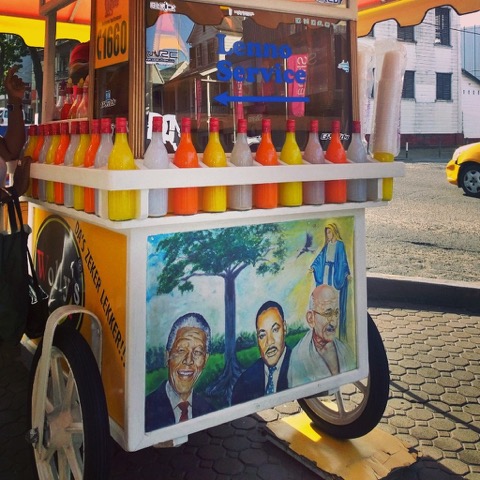 Double positive women (and a few men)
Ethel Pengel is a big name in the Suriname hiv scene. Even the Minister called her "one of our angels". Moreover she is a miracle. In 1983 she was diagnosed with HIV, in 1998 she moved to Suriname and in 2009 she set up DOUBLE POSITIVE, a charity which supports women with HIV. She has never taken any medication but is in good health and…..she's full of energy. It's impressive to see her working. Her office is in a big wooden school building. In the school's courtyard there's a crumbling statue of Mary (this Mary needs a miracle too). In Ethel's office there is a motley crew of "clients". A cheerful little girl, daughter of one of the women walks around. Sandwiches and drinks are prepared by a lovely grandma who told us that she had been diagnosed with hiv five years ago; she's 72. There are about another 12 women and 4 men all of different ages and from different groups of the population.
A super short and far from complete course about Suriname: there are 6 population groups: Amerindian, Creole, Hindustani, Javanese, Marron and Boeroe. The Amerindians are the original inhabitants. The other groups are the result of Dutch mercantilism. The Creoles are descendants of the slaves, incidentally it's more correct to say "made a slave". The Hindustanis and Javanese came to Suriname after the abolition of slavery as contract workers. The Marrons are slaves who escaped inland during slavery and now live in characteristic villages along the rivers. The Boeroes are the Dutch who emmigrated to Suriname in the middle of the 19th century. For those who want to know more check out Slavery on Wikipedia.
Back to Ethel's group. Everyone talks about everything with each other with Ethel as the, not too strict, group leader. Topics include how crucial keeping to therapy is (quite a thing here), housing problems and even the national strategic plan for hiv is discussed. Finally Ethel gives a sort of sermon which basically comes down to: don't be a victim. Yes, you've got hiv and that is drastic enough, but there is medication available now so you don't have to be ill…you can go to work. And if your employer doesn't want you anymore (that happens quite a lot here), go and start something for yourself. Do something with clothes, go and be a hairdresser, do voluntary work…but do something. Ethel is supported by Jennifer; we met her a few hours earlier and are still overcome by her story. Raped as a child, ran away aged 10, heroine user, became a sex worker, mishandled by a pimp, gave her children up…but she managed to get out thanks to the Lord and Victory Outreach a Christian charity. She doesn't need that 'do something'. She's already busy she supports Ethel and she has a dream. A piece of land with a house for those with hiv, victims of domestic violence, addicts and sex workers.
Of course that's a fairly ambitious dream. But now we've seen her power close up it wouldn't surprise us if her dream comes true….even if it's only partly.